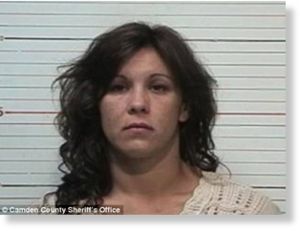 Missouri mother Bradie Simpson 'assaulted baby'
Found in woods holding her nine-month-old girl
Ex-boyfriend found in same woods in September
Told church pastor she's 'possessed' in October
A mother allegedly slashed her nine-month-old baby's throat just months after telling a pastor she could be possessed and might hurt the girl.
Bradie Simpson, 39, of Camdenton, Missouri, was found in woods 225ft from her home as she held the baby covered in blood with a neck wound.
It comes months after the body of her ex-boyfriend, the baby's father, was found in the same woods last September, reported ABC affiliate KSPR.
Edwin Duncan's cause of death was never revealed and his body was eaten by vultures before it was found, her neighbour David Doyle said.
Simpson allegedly told First Baptist Church of Camdenton pastor Rev Bob Aubuchon last October she was possessed. The baby survived the attack.
She is charged with first-degree assault and armed criminal action and is recovering in hospital from an injury to her own throat, but should recover.
In October she went to the church and ran inside with her baby, telling Rev AuBuchon to 'take my baby, take my baby', he told NBC affiliate KY3.
He had never met her before. 'She more or less just tossed her baby into my arms,' he said, asking him to tie her up and screaming 'possession'.
She allegedly hit her chest, told him she was 'demon possessed' and wrote on a piece of paper: 'Do not let me harm the baby', reported KY3.
He prayed with her but then she snatched the baby back and tried to leave. The church called 911 and the baby left with children's services.
The baby was later returned to Simpson. Rev AuBuchon was due to testify in court on what happened but was later told the case had been settled.
Last Friday night she called 911 about an attempted burglary and gunshot next door. Police arrived, talked to her and left saying everything was fine.
Less than three hours later her 19-year-old son phoned police to say his mother and sister were missing. A bloody knife was found in the bedroom.
Officers found both mother and baby almost four hours later covered in blood after searching over several acres of woods, reported KY3.
Camden County Sheriff Dwight Franklin compared seeing the blood all over the baby to the classic 1976 supernatural horror film
Carrie
.
'If you remember in the movie
Carrie
, the blood that was over the baby - it was scary,' he told KSPR. 'They initially thought the baby was dead.'
'A deputy immediately snatched it up, applied pressure to it, covered it up and ran back to the ambulance with it,' he added on KY3.
Police said it's a 'miracle' that the baby survived as they thought she was dead on arrival. The baby was taken to hospital in critical condition.
But she was released after emergency surgery and is now in protective custody. Simpson claims a third party was responsible, reported KSPR.