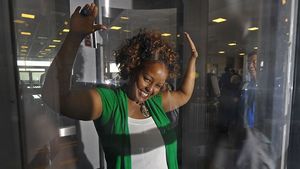 Passengers at airports across Australia will be forced to undergo full-body scans or be banned from flying under new laws to be introduced into Federal Parliament this week.
In a radical $28 million security overhaul, the scanners will be installed at all international airports from July and follows trials at Sydney and Melbourne in August and September last year.
The Government is touting the technology as the most advanced available, with the equipment able to detect metallic and non-metallic items beneath clothing.
It's also keen to allay concerns raised on travel online forums that passengers would appear nude on security screens as they had when similar scanners were introduced at US airports.
The technology will show passengers on a screen as stick figures of neither sex.
The system has approval from the Privacy Commission.
The images will also be discarded after each passenger has been cleared.
The proposed Aviation Security Amendment (Screening) Bill 2012 will make it mandatory for any passenger selected to participate in undergoing a body scan.
The "no scan, no fly" amendment closes a loophole in the legislation, which allows passengers to request a pat-down instead of having to pass through a metal detector.
Transport Minister Anthony Albanese said mandatory body scans were necessary to ensure the safety of airports.
"I think the public understands that we live in a world where there are threats to our security and experience shows they want the peace of mind that comes with knowing government is doing all it can," he said.
The Government has compared the strength of the radio waves emitted from the body scanners as the same as those from a regular mobile phone used several metres away.
Only passengers with serious medical conditions will be exempted from a scan.
More than 23,000 passengers took part in the body scanning trials from August 2-19 in Sydney and September 5-30 in Melbourne.
The scanners will be rolled out at eight international gateway airports in Adelaide, Brisbane, Cairns, Gold Coast, Melbourne, Perth and Sydney.
The Government has enlisted the same company, L-3 Communications, used in the US to supply the scanners.