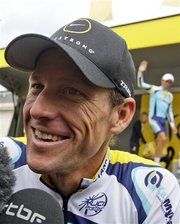 Lance Armstrong is used to winning, but his most recent victory was unlike any he had experienced before.
Federal prosecutors dropped their investigation of the seven-time Tour de France champion Friday, ending a nearly two-year effort to determine whether the world's most famous cyclist and his teammates joined in a doping program during his greatest years.
Armstrong steadfastly denied he doped during his unparalleled career, but the possibility of criminal charges threatened to stain not only his accomplishments, but his cancer charity work as well. Instead, another attempt to prove a star athlete used performance-enhancing drugs has fallen short, despite years of evidence gathering across two continents.
"I am gratified to learn that the U.S. Attorney's Office is closing its investigation," Armstrong said in a statement. "It is the right decision and I commend them for reaching it."
The probe, anchored in Los Angeles where a grand jury was presented evidence by federal prosecutors and heard testimony from Armstrong's former teammates and associates, began with a separate investigation of Rock Racing, a cycling team owned by fashion entrepreneur Michael Ball.
U.S. Attorney Andre Birotte Jr. announced in a press release that his office "is closing an investigation into allegations of federal criminal conduct by members and associates of a professional bicycle racing team owned in part by Lance Armstrong."
He didn't disclose the reason for the decision, though Birotte has used discretion in pursuing high-profile criminal cases before. Last February, his office closed an investigation of mortgage giant Countrywide Financial Corp.
Investigators looked at whether a doping program was established for Armstrong's team while, at least part of the time, it received government sponsorship from the U.S. Postal Service. Authorities also examined whether Armstrong encouraged or facilitated doping on the team. He won the Tour de France every year from 1999-2005.
The pronouncement comes after a pair of less-than-successful cases against top sports figures accused of doping. Home run king Barry Bonds was found guilty of obstruction of justice and sentenced in December to 30 days' home detention - a conviction he's appealing - but prosecutors were unable to convince a jury he lied about using steroids. Roger Clemens' steroid trial is slated for April 17 after a judge declared a mistrial last summer when prosecutors showed jurors inadmissible evidence.
The hurdle for prosecutors wasn't so much to prove whether any particular cyclist used drugs, but to determine if Armstrong and other team members violated federal conspiracy, fraud or racketeering charges. Unlike Bonds and Clemens, who testified before a federal grand jury and Congress, respectively, and were accused of lying under oath, Armstrong was not questioned in front of the grand jury.
Betsy Andreu, who with her husband and former Armstrong teammate, Frank, accused the cycling champion of doping, said the "legal system failed us."
Led by federal agent Jeff Novitzky, who also investigated Bonds and Clemens, U.S. authorities sought assistance overseas, requesting urine samples of U.S. Postal riders from France's anti-doping agency and also meeting with officials from Belgium, Spain and Italy.
Prosecutors also subpoenaed Armstrong supporters and ex-teammates to testify in Los Angeles. Among them were Ukrainian cyclist Yaroslav Popovych, who rode on three Armstrong teams dating back to 2005; Allen Lim, an exercise physiologist for Team Radioshack; and longtime Armstrong friend Stephanie McIlvain.
The investigation began after Novitzky was told about a cache of PEDs found by a landlord in the vacated apartment of Kyle Leogrande, a cyclist who rode for Rock Racing and had a doping ban, according to several people familiar with the case.
The case also was spurred by disgraced cyclist Floyd Landis, who claims Armstrong had a long-running doping system in place while they were teammates. Landis, who was stripped of the 2006 Tour de France title for drug use, acknowledged in 2010 he used performance-enhancing drugs after years of denying he cheated.
One of the most serious accusations came during a
60 Minutes
interview last May when former teammate Tyler Hamilton said he saw Armstrong use EPO during the 1999 Tour de France and in preparation for the 2000 and 2001 tours.
U.S. anti-doping officials said Friday they will not be dissuaded by the government's decision to close the Armstrong probe and will continue their investigation into doping in professional cycling.
As the investigation progressed, Armstrong assembled a legal team, hired a spokesman and briefly created a website to address any of the allegations reported by the media.
Frustrated by a slew of news articles about the investigation, Armstrong's attorneys filed a motion in July, asking a judge to order federal agents to testify about their contacts with reporters.
Armstrong consciously maintained a high profile throughout the investigation, raising money for his cancer charity, Livestrong, and racing in events such as off-road triathlons. He had no reason to hide, he said.
Source:
The Associated Press