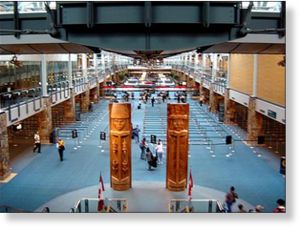 Passengers flying out of Vancouver International Airport for destinations beyond B.C. are going to have to pay more for the privilege starting May 1.
The Vancouver Airport Authority has announced $1.8 billion in upgrades and says it's hiking the airport improvement fee by 33 per cent in order to pay for the work.
The fee will jump from $15 to $20 for people flying outside of B.C., while passengers flying within the province and Yukon region will continue to pay five dollars.
Airport authority president Larry Berg says the facility, known as YVR, is facing increasing competition from other airports, and in order to remain competitive it has to make changes.
These include building more than 700 metres of secure corridors and moving walkways to reduce connection times for passengers between international and domestic flights.
The 10-year YVR plan also includes the introduction of new high-speed baggage systems, upgrades for parts of the original domestic terminal building, built in 1968, and runway safety improvements.