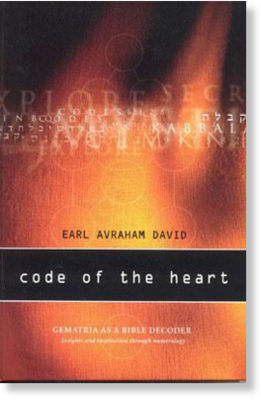 A former New York lawyer who was posing as an orthodox rabbi in Toronto has been extradited to the United States, where he is accused of perpetrating a massive immigration fraud, raking in millions of dollars by processing up to 25,000 falsified immigration applications.
Earl Seth David, also known as Rabbi Avraham David, is a dual citizen of Canada and the United States, and fled to Canada when authorities uncovered what prosecutors called "a massive immigration fraud mill."
But to many in the Jewish community around Toronto, he was known as a Torah scholar and author of
Code of the Heart
, a 2005 book claiming to decode the Torah, the Hebrew Bible.
His book uses numerology and other techniques to find hidden meaning that influence and foreshadow world events, including the war in Iraq, the 9/11 terror attacks and even the rape allegations against basketball star Kobe Bryant.
The book's promotional materials said the world would be hearing a lot more from Rabbi Avraham David. On Wednesday, it did.
"When he fled to Canada to avoid prosecution, Earl Seth David left thousands of victims of his alleged fraud in his wake - people who believed he was helping them secure legal status and paid him a lot of money to do so," said Manhattan U.S. Attorney Preet Bharara.
"Thanks to the co-operative efforts of our law enforcement partners here and in Canada, he was apprehended and extradited back to the United States, where he will now face justice."
Mr. David, 47, was arrested in Toronto in October.
Starting about 1996, Mr. David ran a law office in New York. His specialty, prosecutors say, was filing fraudulent documents on behalf of immigrants to the United States portraying them as being wanted for employment by a U.S. company or otherwise sponsored to stay in the country.
His firm provided pay stubs, employer tax return information, letters of reference from prior employers and written offers of employment. The vast majority of the documents provided to the U.S. Department of Labor and U.S. Citizenship and Immigration Services were falsified, authorities allege, who said the immigrants typically paid $30,000 each for the material.
Even after the New York bar suspended Mr. David, he continued with his scheme, authorities alleged, forwarding at least 25,000 immigration applications.
After his suspension he stopped putting his name on the documents, according to the indictment filed in U.S. court.
In 2006, when authorities applied for search warrants of his offices, he fled to Canada but continued to draw funds from his law firms through circuitous routes until 2009, the indictment says.
The payments were sometimes channelled through accounts held in the name of his book, prosecutors alleged, and the scheme required dozens of others willing to falsely present themselves as representatives of sponsor companies.
The sponsors, however, had no intention of hiring the aliens and often didn't even exist other than as shell companies for the scheme, authorities said. Among the alleged conspirators was a corrupt Department of Labor employee who helped ensure official certificates were granted.
U.S. authorities granted legal status to thousands of aliens who, it is alleged, otherwise would not have been qualified for status. The government traced at least 25,000 immigration applications submitted by Mr. David's law firms and found "the vast majority" to contain "false, fraudulent, and fictitious information."
Mr. David is charged with conspiracy to commit immigration fraud, conspiracy to make false statements to immigration authorities, conspiracy to commit mail and wire fraud, and conspiracy to commit money laundering.
Approved for extradition, Mr. David arrived in New York on Tuesday and arraigned in federal court. Mr. David pleaded not guilty. He and 11 other co-accused are scheduled to appear in court on Monday.