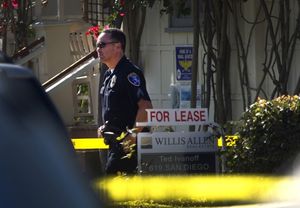 San Diago - The two Navy fighter-jet pilots were in their prime, having made the cut into one of the military's most competitive programs.
Their deaths in a murder-suicide on New Year's Day has rocked the tight-knit community of Naval aviators as investigators try to find out what happened in the condominium on the picturesque peninsula of Coronado, an enclave of 24,000 just across the bay of San Diego that recorded only one homicide in 2010.
There were no eyewitnesses, investigators say, and they have found no motive yet for the eruption in gunfire that also killed one of the pilot's sisters and a 31-year-old man the group had just befriended at a nightclub only hours before the incident.
John Robert Reeves, 25, shot himself in the head, and the three others with him were murdered, the San Diego County Sheriff's Department said, citing autopsy results. Fellow Navy pilot David Reis, also 25, was killed by a gunshot wound to the torso, and his 24-year-old sister, Karen, suffered a gunshot wound to the head and chest, officials said. Matthew Saturley, 31, of suburban Chula Vista, was shot multiple times.
Sheriff's Capt. Duncan Fraser said there were no outstanding suspects in the case, and police have found no evidence indicating there was an exchange of gunfire, although he declined to say if Reeves was the shooter, explaining that "we don't have forensic evidence yet to say that definitively."
Reeves, of Prince Frederick, Md., and Reis, of Bakersfield, Calif., were both training as F/A-18 fighter pilots assigned to the Marine Fighter Attack Training Squadron 101 of the Third Marine Aircraft Wing at nearby Miramar Air Station.
Retired Naval pilot Steve Diamond said the case is shocking because it involves such high achievers.
"The first thing that most people think of even within the Navy community is how could such an enormously tragic thing happen involving people ... who are the cream of the crop, highly trained, highly educated, national assets basically," he said.
It takes years of training to get one's wings as a Navy pilot, and fighter-jet pilots are considered to be among the top in that group. They undergo a battery of rigorous physical, psychological and background tests before finishing the highly competitive program, Navy officials said. Their top-notch skills and mental toughness were featured in Hollywood's "Top Gun" - parts of which were filmed at Miramar.
The two Naval officers were in the final rung of that training.
"The hardest thing you ever do in aviation is carrier landing aboard a ship at sea, so these guys were the pick of the litter," said Ernie Christensen, a retired rear admiral and former Vietnam fighter pilot who commanded the Navy's Top Gun fighter school for a time in the 1980s.
"I will tell you that Naval aviation will hurt regardless of what anybody finds out about anything because they're all close, because you go through a tough, rigorous kind of a ritual," he added.
Reeves' family members could not be immediately reached for comment.
The two Navy pilots lived at the condominium with another Navy pilot who was out of town at the time. Friends and family members say they were not aware of any problems in the household, investigators said.
Military officials have been assisting the investigation but would provide no details on the two pilots, saying it was too early to do so in the probe.
Authorities were awaiting toxicology results to see if drugs or alcohol might have played a role.
Reeves moved in to the condo a few months ago, Fraser said.
The two Navy pilots and Karen Reis went out to a nightclub on New Year's Eve with another unnamed friend, Fraser said. At the club, they met Saturley and returned to Coronado. When the gunshots rang out, the friend was talking to David Reis outside the condo, Fraser said. Reis rushed inside and the friend stayed outside and called 911.
David Reis' body was found near the entryway, Fraser said. The other three were found on the third floor of the condo, including two in the bedroom and one on a landing. Investigators seized four guns; none appeared to be a military firearm, Fraser said.
Saturley attended the University of Maryland, earning a bachelor's degree in economics, before studying for a master's at MIT's Sloan School of Management, according to U-T San Diego. He has a 5-year-old daughter and had filed for divorce from his wife of nearly six years just three days before his death, U-T San Diego reported.
The Reis siblings were close friends, their parents say. His sister, Karen, 24, graduated from the University of California, San Diego in 2009, and coached volleyball twice a week to children 12 and younger.
Karen's absence will be greatly felt by those who came in contact with the "selfless young woman" who loved to play sports and sing in her car. David was Karen's "knight in shining armor," the family said in a statement Wednesday.
"We will miss David tremendously, but take solace knowing that he is now forever flying in flawless formation across eternity, with Karen on his wing," the family said.