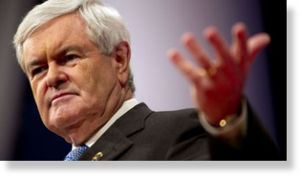 Newt Gingrich, who suddenly finds himself near the front of the ever-shifting GOP pack, is also finding that his finances are yet again in the cross-hairs.
Multiple outlets are reporting that financial woes within the campaign means they're skipping contests in key states and foregoing traditional campaign stops, even as Gingrich is taking early repayments of personal loans to the campaign. Meanwhile, long-time creditors fret about when they'll get paid.
In the key swing states of Missouri and Ohio, which President Barack Obama won in 2008, the Gingrich campaign has lagged behind other candidates in filing key paperwork. Just this week
he nearly missed the filing deadline for Ohio
, but ultimately succeeded in posting most of the required paperwork at the zero-hour. Similarly, he skipped filing in Missouri due to the cost - a mere $1,000 - simply because the Missouri GOP primary isn't the most important selection process for the state party.
In addition, prior reports indicated that the campaign
did not have cash on hand
for the $25,000 Ames Straw Poll filing fee, or $30,000 for a list of previous Iowa caucus attendees. Meanwhile, Gingrich had his own campaign
pay him a $125,000 reimbursement
for travel expenses and a mailing list that he could have simply donated.
He repaid himself even as he's being hounded by his creditors, who are owed over $1.2 million in long-term debts. The campaign says
they're beginning to pay those down
, too. By contrast, former Mass. Governor Mitt Romney's campaign has carried no debts, opting to pay out of pocket right away.
Scrutiny of Gingrich's finances began earlier this year, after reports surfaced that he had an
unpaid $500,000 line of credit
with jewelry company Tiffany's. Facing the ever-growing mountain of campaign debts and reports that the candidate was on a Mediterranean cruise, 18 members of team Gingrich - including his top finance aides -
quit en masse
. After all, for months he was
spending $3 for every $2 raised
, according to reports.
For Gingrich, this type of fiscal mismanagement appears to be a pattern stretching back years.
Gingrich's personal finances have reportedly been in various states of disarray for decades - a
love for costly private air travel
and expensive jewelry barely even scratches the surface.
A profile in Esquire last year
described how Gingrich let his wife Marianne take over management of his personal budget, because he found it "too stressful."
Similarly, a profile of the former Speaker
published by Vanity Fair in 1995
noted that his first wife, Jackie, was also in charge of his personal finances. Even then, the couple took 13 years to pay off their debts, and once they divorced,
she had to sue Gingrich to get him paying alimony
. Testimony in hearings on the case ultimately shed even more light on his liberal personal spending, even as his first ex-wife was struggling to keep her home's utilities turned on.
But it's not just stress in running budgets or refusing to pay his debts: it's also his apparent ignorance of financial matters in general that will likely have conservatives doing a double-take.
As Speaker, Gingrich was fined $300,000 by the House for an ethics violation after he was caught using tax deductible groups to finance and support his political agenda. The scheme ultimately helped Republicans wrestle control of the House back to their side during the Clinton administration.
During the investigation, Gingrich reportedly lied to the ethics committee about using tax-exempt, ostensibly non-partisan organizations to further Republican causes -
although he was not alone in committing these violations
. Donors to these groups were simultaneously supporting their favored Republican causes and gaining a tax rebate, which is patently illegal.
Gingrich ultimately admitted that some of his statements to the committee were "inaccurate," insisting his real crime was ignorance and that he simply
had not consulted a lawyer
about the tax code.
If the former House Speaker manages to secure the Republican nomination to challenge Obama in next year's election, Democrats are guaranteed to have a field day with his long history of ethical scrapes, underhanded dealings, repeated infidelity and record of saying, well,
pretty dumb things
.
But it's a long way until August, and Gingrich's long-term lack of fiscal discipline could be the inroad - or Christmas present - Romney is looking for, especially when the GOP is singing the praises of financial austerity and fiscal discipline.