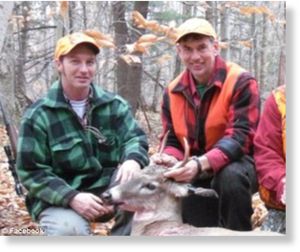 A hunter who accidentally shot and killed his friend was so devastated he turned his rifle on himself, police believe.
Benjamin Birch, 39, Timothy Bolognani, 49, and Mark Colford were hunting near Readsboro, Vermont, on Saturday afternoon when Birch shot a deer.
The wounded animal managed to escape, and the men began tracking it through the woods.
Bolognani fired at what he thought was the deer, but instead heard Birch scream in pain.
Bolognani and Colford ran to discover their friend bleeding on the ground, where he died.
Overwhelmed with grief, Bolognani then committed suicide with his own rifle, police believe.
Vermont State Police were called just after noon on Saturday.
It is the second tragedy the Bolognani family has suffered in as many years.
In January 2010, Timothy Bolognani's 18-year-old daughter, Jessica, was killed in a snowmobile accident.
Jessica was riding on the back of the vehicle on private property when she fell and was crushed by another snowmobile driving behind.
Although she was wearing a helmet, the teenager suffered traumatic head injuries and died before emergency services could take her to hospital.
It is believed Mr Bolognani leaves behind a son, Stephan, and his wife, Debbie.
Benjamin Birch was a keen hunter and uploaded photos of his various catches, including black bears, to Facebook.
He also expressed his discontent that the deer hunting season was not as long as that in other states.
He wrote: 'Vermont is the only state where they worry about the deer getting a rest between seasons!'
Birch had owned a building firm with a relative in Readsboro for 20 years.
On Saturday, troopers from the Shaftsbury and Brattleboro barracks in Vermont went to the scene one mile west of Howe Pond Road in Readsboro, where they found two men dead from gunshot wounds.
Authorities are awaiting the results of an autopsy, but police said they do not suspect any foul play in the incident.