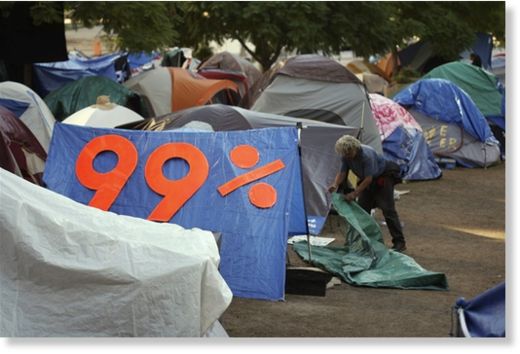 Anti-Wall Street protesters appear to be taking few steps to vacate their Occupy encampments in Philadelphia and Los Angeles despite fast-approaching deadlines to move out.
Few broke down tents at the Occupy LA spread Saturday on the City Hall lawn - and most said they didn't intend to.
Protesters were abuzz with activity, but nearly all of it was aimed at how to deal with authorities come Monday's 12:01 a.m. PST deadline.
Some handed out signs mocked up to look like the city's notices to vacate, advertising a Monday morning "eviction block party."
Dozens attended a teach-in on resistance tactics, including how stay safe in the face of rubber bullets, tear gas canisters and pepper spray.
Mayor Antonio Villaraigosa announced on Friday that despite his sympathy for the protesters' cause, it was time for the camp of nearly 500 tents to leave for the sake of public health and safety.
The mayor said the movement is at a "crossroads," and it must "move from holding a particular patch of park to spreading the message of economic justice."
Resist or move?
Will Picard, who sat Saturday in a tent amid his artwork with a "notice of eviction" sign posted outside, said the main organizers and most occupiers he knows intend to stay.
"Their plan is to resist the closure of this encampment and if that means getting arrested so be it," Picard said. "I think they just want to make the police tear it down rather than tear it down themselves."
But some agreed with the mayor that the protest had run its course.
"I'm going," said Luke Hagerman, who sat looking sad and resigned in the tent he's stayed in for a month. "I wish we could have got more done."
Police gave few specifics about what tactics they would use for those who had no intention of leaving.
Chief Charlie Beck said at Friday's news conference that officers would definitely not be sweeping through the camp and arresting everyone just after midnight.
But in an interview with the
Los Angeles Times
on Sunday, Beck said that despite the lack of confrontations in the camp's two-month run, he was realistic about what must happen.
"I have no illusions that everybody is going to leave," Beck told the
Times
. "We anticipate that we will have to make arrests."
But he added, "We certainly will not be the first ones to apply force."
New focus in Philly
In Philadelphia,
The New York Times reported
, Saturday looked nothing like a moving day despite Mayor Michael A. Nutter's notice that protesters must leave the steps of City Hall by 5 p.m. Sunday.
The mayor said they could move across the street to Thomas Paine Plaza, but no more tents or overnight stays,
NBC Philadelphia reported
.
"I'm not going to try to predict what's going to happen on Sunday at 5 p.m," Nutter said at a Friday interview.
Protesters told the
Times
that the deadline had focused the local movement's otherwise disorganized energies.
"Having this kind of pressure is a good thing," Michael Pierce, 50, a member of Occupy Philadelphia's information working group, said. "Without some of the struggles that the other cities have had, we've been sitting around, drinking coffee," Mr. Pierce said. "This is bringing us back together."
Police have swept tent cities in Portland, Ore., Oakland, Calif., New York City, Denver and Salt Lake City.
In other developments Saturday:
Occupy Salem, Ore., organizers said they will take their protests to Marion Square Park for daytime demonstrations after being ordered to remove all tents, waste, portable toilets and other structures from Willson Park, near the state Capitol.
In New York, Occupy Wall Street organizers said they plan to outside the Egyptian Embassy on Tuesday in solidarity with protesters in Cairo's Tahrir Square.
An 18-year-old University of South Dakota freshman reported missing earlier this week turned up in New York after authorities traced a credit card purchase for bus tickets to the Big Apple. Protester Aaron Schmidt met up with his father and uncle in New York after spending two nights on a cardboard in Zuccotti Park.