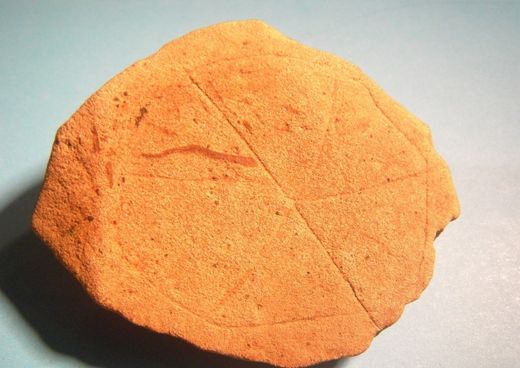 A mysterious yellow stone which could date back to prehistoric times has been discovered in the hills above Belfast.
The yellow, honeycomb type stone was found by a member of the public as part of an ongoing open archaeological dig in the Ballyaghagan town land on the Upper Hightown Road in the north of the city.
Archaeologists believe it may have been used in prehistoric ceremonies, but they will know more after testing and further study has been carried out on the stone.
Up to 400 people, including groups of school children, have taken part in a public dig on Cavehill over the last week as part of an initiative by the Belfast Hills Partnership.
They have been supervised by archaeologists from the Queen's University's
Centre for Archaeological Fieldwork
.
Dr Harry Welsh from the centre said the stone was found within the site of a seventeenth century house. He said the house is located on top of an early Christian farmstead which dates from 1000AD.
"It was a member of the Ulster Archaeological Society who first found it, and he had only been digging for around five minutes when he found it," Dr Welsh said.
"It is hard to know exactly what the stone is because of the particular place it was found, there are two parts of the site, first is an early Christian farm dating from 1000AD, and parked over the top of that is a much later cottage, possibly from the 17th century. The stone was found when they were excavating the cottage, it could come from that time or could be quite old. It looks like a piece of sandstone, someone has brought it into the site at some stage."
The team has also found a number of prehistoric flints on the site showing that people were living there from up to 5,000 years ago.
While today's view from the site take in the expanding city of Belfast, Dr Welsh said the views when the site was inhabited from prehistoric to early Christian and moving into the Plantation period would have been very different, with no tall buildings and modern bridges, instead just bog land and marsh.
Dr Welsh said the discovery has caused great excitement among archaeologists and that the site has surpassed all expectations from the start of the dig.
The public dig at the Ballyaghagan cashel will finish today and all members of the public are welcome to attend.
The Big Dig is one of a series of projects earmarked for a £1.7 million Heritage Lottery Fund (HLF) landscape partnership scheme in the Belfast hills.
The Northern Ireland Environment Agency and Belfast City Council - which owns the land - have also funded the community project.