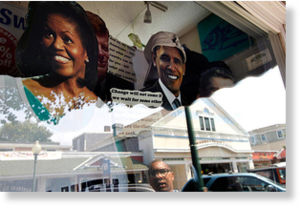 Mitt Romney says Obama 'shouldn't be out vacationing' during a 'crisis.' Newt Gingrich agrees. But a veteran of multiple White Houses says presidents need to 'recharge.'
When President Obama planned his annual August break on Martha's Vineyard, he could predict he'd face some grief for going off and relaxing a bit with his family while the nation goes through tough economic times.
But Mr. Obama couldn't predict the stock market would tank again. Not that there's anything he could do about that, no matter where he's physically situated. Still, the posh locale for this summer break - once again, Blue Heron Farm in the charming village of Chilmark - just seems especially bad optics for a president who is obviously financially comfortable while so many Americans are not, politicos are opining.
And ultimately, they say, he just shouldn't be on vacation, period.
"Now, Martha's Vineyard is in my home state of Massachusetts, so I don't want to say anything negative about people vacationing there," said the state's former governor, Mitt Romney, a top contender for the GOP presidential nomination. "But if you're the president of the United States and the nation is in crisis - and we're in a jobs crisis right now - then you shouldn't be out vacationing. Instead, you should be focusing on getting the economy going again."
Mr. Romney was speaking Tuesday on the
Don Wade & Roma Show
on WLS-AM in Chicago. Other candidates, former and current, chimed in as well: Donald Trump slammed Obama on Fox News for taking "more vacations than any human being I've ever seen." That, of course, is rather an exaggeration - even when comparing Obama with his predecessor. Obama has taken far fewer vacation days (38) than President George W. Bush, who had taken 102 days off at this point in his first term, not including either president's trips to Camp David, according to Mark Knoller of CBS.
Then there's former House Speaker Newt Gingrich, who said Obama should cancel his vacation. Interestingly, Gingrich said this as he prepared for a campaign visit to Hawaii, even though it's not an early primary state and, oh by the way, his wedding anniversary is also right around now.
All the usual reasons for proceeding with a presidential vacation are also being trotted out: The president is really never on vacation, and will still get his regular briefings and be prepared to respond to a crisis if one arises, White House press secretary Jay Carney said earlier this week.
"For heaven's sake, let the poor man go on vacation," says Stephen Hess, a veteran of multiple White Houses, starting with President Eisenhower.
"There's always something going on," says Mr. Hess, an emeritus scholar at the Brookings Institution. "These are strange and dangerous times that we're always living in."
The positive side, he adds, is that presidents need vacations. "They need to recharge their batteries, and we hope they're better off coming back than going," says Hess.