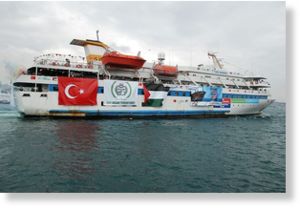 Israel has decided not to apologize to Turkey for last year's deadly raid on a Turkish protest flotilla bound for Gaza ahead of a United Nations report on the episode scheduled to be published early next week, according to a senior Israeli official.
Turkey has demanded an official apology, compensation to victims' relatives and a lifting of the blockade on Gaza as conditions for normalizing its heavily strained relations with Israel, formerly an important ally.
The Obama administration is keen to see Israel and Turkey repair relations and has been urging Israel to apologize.
A diplomatic source, speaking on condition of anonymity because of the delicacy of the subject, said the American request for such an apology was reiterated on Tuesday in a phone call between Secretary of State Hillary Rodham Clinton and Prime Minister Benjamin Netanyahu.
The Israeli official, who also spoke on condition of anonymity, said the Turks kept adding conditions for a reconciliation, raising uncertainty in Mr. Netanyahu's government over whether they were sincere and whether they would consider the case closed even if a deal were reached.
As a result, Israel's security cabinet refused on Wednesday to endorse a package of understandings with Turkey that would have included an Israeli apology for any operational errors during the commando raid and agreement to pay into a compensation fund for the victims in return for a Turkish commitment not to pursue legal action against Israeli soldiers.
But Turkey also wanted the impending United Nations report shelved and added the demand to lift the blockade on Gaza, according to the Israeli official.
"This was a red light," he said. "It made us realize that whatever we agree on, the Turkish government may not feel committed to the understandings."
He added, "Most cabinet members who were not opposed to the indirect apology in the deal now felt on uncertain ground about what Israel would get in return."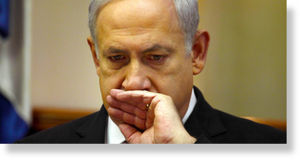 In Washington, Mrs. Clinton's spokeswoman, Victoria Nuland, confirmed that Mrs. Clinton and Mr. Netanyahu had a telephone conversation on Tuesday. She declined to specify what was discussed but said the United States had "long supported an improved relationship between Turkey and Israel."
Israeli naval commandos raided the Turkish passenger vessel, the
Mavi Marmara
, in international waters in May 2010. The boat, part of an international flotilla challenging Israel's naval blockade of Gaza, was carrying pro-Palestinian activists. By Israel's account, the Israeli soldiers met with violent resistance as they landed on the deck; nine passengers were fatally shot in the melee, eight of them Turks and one an American citizen of Turkish descent.
Israel imposed a formal naval blockade on Gaza, the Palestinian coastal enclave controlled by the Islamic militant group Hamas, in early 2009. Israel says the blockade is essential for preventing weapons smuggling to Gaza.
Responding to the reports from Israel, Turkey's prime minister, Recep Tayyip Erdogan, reiterated his country's position, telling reporters on Wednesday, "As long as Israel does not apologize, does not pay compensation and does not lift the embargo on Palestine, it is not possible for Turkey-Israeli ties to improve."
While Turkey is said to object to the draft conclusions of the United Nations report, Israeli officials who have seen the draft consider much of it favorable to Israel.
They say that the report has concluded that Israel's naval blockade of Gaza and its enforcement, even in international waters, is legitimate and that the report is severely critical of the organizers of the 2010 flotilla. At the same time, the Israelis say, the report criticizes Israel for having used excessive force during the raid.
Israel and Turkey have been seeking to improve ties for months, and the publication of the United Nations report has already been delayed twice while the sides tried to reach an agreement to fully restore diplomatic ties.
Several of Mr. Netanyahu's senior ministers strongly oppose apologizing to Turkey, among them the foreign minister, Avigdor Lieberman, although he has said he would not stand in Mr. Netanyahu's way if the prime minister decided to apologize.
Mr. Lieberman told Israel's Channel 2 television on Wednesday that the refusal to apologize was "a just and wise position."
"A message of weakness is dangerous to Israel at this time," he said.
Another senior minister, Moshe Yaalon, who represented Israel in talks with Turkey, told reporters recently that Israel should express regret for the loss of life on the Mavi Marmara but should not apologize.
"Apologizing means accepting responsibility," Mr. Yaalon said. "Our soldiers acted in self-defense. There is no room in my mind for any apology."