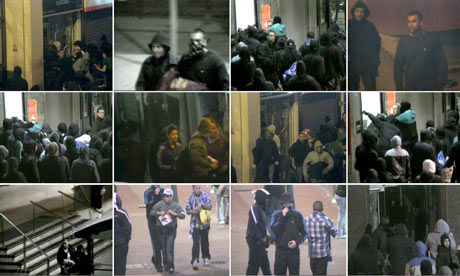 A firebomb was launched at a Nottingham police station, while shops were ablaze in Manchester
A police station in Nottingham was firebombed late on Tuesday by a group of up to 40 men, police said, while there was looting in Manchester and there were tense scenes in Salford.
Canning Circus police station in Nottingham was attacked by the group but no injuries were reported, Nottinghamshire police said just after 10pm.
The force said a number of men were detained nearby.
There was also trouble in Birmingham and other parts of the West Midlands, but relative calm in London as Scotland Yard attempted to put the capital in lockdown with 16,000 police on the streets, in contrast to 6,000 on Monday.
Scotland Yard ordered its officers to use every available force including the possible deployment of plastic bullets to tackle widespread rioting and looting as the capital was flooded with the biggest police presence in British history.
Sporadic looting was taking place across Manchester city centre; there were also disturbances in Salford and tense scenes there around Shopping City, where a large group of youths had gathered.
In the centre of Manchester, rioters set fire to a Miss Selfridge shop on Market Street. Then around 100 youths looted Foot Asylum in the Arndale Centre after two raiders smashed open the glass entrance with a large stone slab. Once the glass was shattered, youths rushed in and carried out clothing and shoes.
A recently - opened fashion boutique in King Street owned by former Oasis singer Liam Gallagher was been hit by looters.
A Diesel clothing shop and a Bang & Olufsen store were also broken into, with a chorus of cheers going up among the crowd as the front window of the latter was smashed.
Several of the looters shouted out directions for the others to follow, suggesting a degree of co-ordination.
The mob scattered in different directions as police sirens sounded.
Rioters threw stones and other missiles at shop windows, whooping and shouting as they ran from police.
In Piccadilly Gardens an amusement arcade had been plundered. Machines were overturned in Piccadilly Museums with coins strewn across the carpet.
A cafe on Deansgate also had its windows smashed.
Large crowds gathered along the street, while looters helped themselves to bottles of alcohol from a Sainsbury's Local at the corner of Bridge Street.
The thieving continued for several minutes in front of onlookers.
All the looters had grabbed what they wanted and disappeared into side streets before three police vans arrived.
A jewellers was also reportedly attacked before plain-clothed police nearby ran in to arrest two looters from the shop.
Riot police in vans chased large groups of youths wearing ski masks and hoods as they rampaged through the city streets.
Other gangs prowled the streets on mountain bikes, their faces also masked.
On occasions they could be seen talking to drivers of cars on mobile phones, exchanging information, while they drove around the streets in what appeared to be co-ordinated manoeuvres.
Assistant Chief Constable Terry Sweeney of Greater Manchester Police said: "[The force] has been engaged with dealing with outbreaks of minor disorder in Salford and Manchester city centre this afternoon, involving a small number of youths. A handful of shops have been attacked by groups of youths who have congregated and seem intent on committing disorder. As we have said, we will not allow such mindless criminal damage and wanton violence to go unpunished and we will arrest and prosecute anyone found to be involved in looting or acts of criminal damage."
Earlier two cars were set on fire in West Bromwich where shops closed early in the afternoon after rumours of trouble circulated online.
Police in the West Midlands made a total of 36 arrests Tuesday night as fresh disturbances saw looting and vehicles set alight Birmingham, West Bromwich and Wolverhampton.
But West Midlands Police said the disorder was not as severe as Monday's looting in Birmingham city centre, which led to 142 arrests and saw 13 people taken to hospital.
Shops, including a branch of Marks & Spencer and a hi-fi store, were again targeted in Birmingham tonight, although two groups of youths were largely kept away from the city centre by riot police.
In central Birmingham a fluid mob of up to 300 youths gathered, dispersed and regrouped, attacking shops.
Chased by police, groups tried to get into the Mailbox shopping, office and restaurant centre near the city's rejuvenated canal basin, and the Pallisades shopping complex above New Street station before staff brought shutters down.
Marks and Spencer's had windows damaged and a car was set on fire in Albert Street by a large gang retreating from the Dale End part of the centre. House of Fraser was attacked along with a nearby jewellery shop before a line of riot police with batons drove the crowd away.
West Midlands police appealed to families with teenagers out and about to get in touch with them and persuade them to go back home. Three men had been arrested by 8pm.
Riot police pinned 60 youths in part of Wolverhampton after five hours of sporadic violence which left the town centre empty of residents and visitors, with shops shuttered and pubs shutting early. As in Birmingham, a core of several hundred troublemakers continually gathered, dispersed and then picked new targets.
The atmosphere also remained very tense in Handsworth with groups of Afro-Caribbean youths gathering, while Asian shop-owners and security staff stood outside their heavily-shuttered stores.