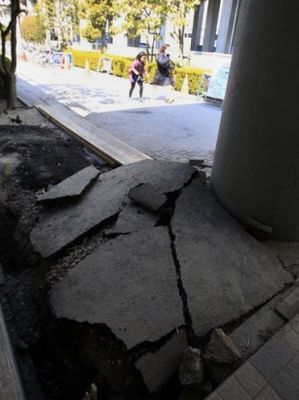 A number of aftershocks hit Japan today.
At 6.3 magnitude quake hit 18.2 km (11.3 miles) below the surface, 294 km (182 miles) northeast of Tokyo, at 7.54PM local time.
A 5.2 magnitude quake hit the Southwestern Ryukyu Islands today at 7.48PM local time, 143 km (89 miles) from Ishigaki-jima, Ryukyu Islands, the US Geological Society
reports
.
Earthquakes have continued to be felt in Japan since the initial quake on 11 March, which led to the tsunami and subsequent devastation of loss of life.
In related news, radiation from the damaged Fukushima power plant has been detected in Glasgow, the
Evening Times
reports
. However, the paper notes: "The levels picked up in Glasgow are tiny and similar to those detected in other parts of Europe and officials stress there is no risk to public health."
.