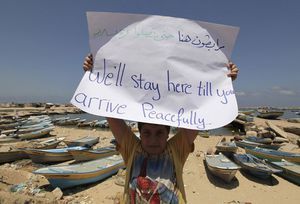 The many mishaps that have befallen 10 ships heading for Gaza have triggered accusations of Israeli dirty tricks
Muggings, alleged sabotage and mysterious fishermen loitering in oily waters: it has all the elements of an average spy novel, but jittery pro-Palestinian activists are alleging that
Israel has masterminded a series of mishaps
that has left their Gaza-bound flotilla in disarray.
In the latest blow to the depleted 10-ship convoy, Greece has arrested the captain of one ship and barred the departure of the other seven ships at its ports, warning that to let them leave would be too dangerous.
If this is the end of the road for the flotilla, it would seem a victory for Israel. It is, after all, a very different ending to activists' efforts to breach Israel's siege of Gaza in May last year when Israeli troops stormed the flotilla, killed nine Turkish activists and drew international opprobrium.
Nevertheless, activists insisted that the boats still operational - which could be as few as four - will sail today, suggesting it may be premature for Israel to celebrate.
Israel has dismissed suggestions that it engaged in a shadowy "dirty-tricks" campaign against the flotilla as the "paranoid" fantasies of people who believe life is "a James Bond film." Instead, it has attributed its success in scuppering the enterprise to a diplomatic offensive that has seen it pressure foreign governments, including the Greek administration, to stop the boats from sailing and help enforce its blockade of Gaza.
About 350 participants - including an 86-year-old Holocaust survivor, politicians and writers of the so-called Freedom Flotilla II - had hoped to sail last week for Gaza to protest Israel's four-year blockade of the coastal enclave, imposed o weaken Hamas, Gaza's Islamist overlords. The International Committee of the Red Cross has called the blockade "collective punishment" of the 1.5 million Palestinians in Gaza, and Israel had to bow to international pressure to ease its blockade after the deadly raid on last year's flotilla.
This year's flotilla hit problems when an Israeli legal centre mounted legal challenges against boats in the convoy, declaring them unseaworthy and delaying their departure. Campaigners on the Irish ship
Saoirse
and Scandinavian boat
Juliano
then reported extensive damage to their propeller shafts, blaming saboteurs.
Meanwhile, several of the activists said they were mugged and their mobile phones stolen, raising suspicions that somebody was trying to monitor their activities. Others said they noticed people filming them on iphones as they left their Athens hotel.
Then there was the case of the fishermen loitering in oily water without buckets or bait. "Even without a background in intelligence, the delegates have concluded that the strange fishermen have more to do with the flotilla than with fish," wrote a reporter on Israel's
Haaretz
newspaper. A French TV crew, meanwhile, reported somebody had broken into their hotel room, damaging satellite equipment and hacking their computers. "It might just be an unconnected crime," Agence France-Presse quoted the producer as saying. "But it seems a bizarre coincidence that someone should go to the effort of riddling our Macintosh computer with viruses."
Whether these incidents are part of a government-led effort to derail the flotilla remain unclear. There is no proof for the claims that Mossad is involved, as passengers claim. On the other hand, the damage to two boats is real, although Turkish authorities have queried whether the damage to
Saoirse
, docked in a Turkish port, was intentional.
Israel has also admitted to "grey" operations of this type before, and two of the boats scheduled to take part in last year's flotilla were mysteriously put out of action before the convoy set sail.
But the real damage to the flotilla has been done by Israel's diplomatic efforts to convince Washington and various European governments that the flotilla is an unnecessary provocation. Greece, which had seemed unsure of its approach to the flotilla, acted decisively on Friday when it stopped the US ship Audacity of Hope, still not cleared to sail, from making a break for it. The captain was arrested, and the rest of the ships bound for Gaza banned from leaving port.
It was later claimed that the US, Israel's staunchest ally, had ordered Greece to stop the boat.
Activists immediately accused Greece's beleaguered Prime Minister, George Papandreou, battling with a massive debt crisis, of selling out to the Israelis. "Greece sold its body to the banks and its soul to Israel and the United States," flotilla participant Dror Feiler told Israeli news site Ynet.
The decisive moment appeared to come after calls last week between Israeli Prime Minister Benjamin Netanyahu and Mr Papandreou. Best-selling daily
Yedioth Ahronot
reported that Israeli officials also warned their counterparts in Athens that the flotilla would go down in history as the "Greek" flotilla.