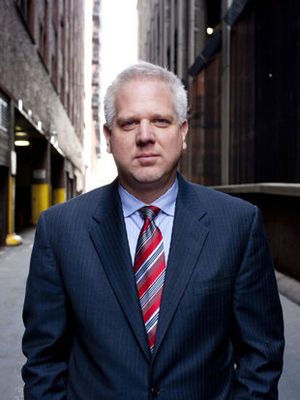 Glenn Beck began his final show on Fox News where he'll be for the foreseeable future: outside the building, and not on TV.
"We've done some amazing things together," Beck, flanked by at least one bodyguard, told viewers as he showed them the view of the set from the street, noting the bulletproof glass windows that were installed "for a myriad of reasons."
Beck then rolled a four-minute highlight reel of his greatest hits spanning his two-and-a-half years on the air: Acorn, the 9/12 Project, the Restoring Honor rally in Washington, D.C., last summer. The montage also included testimonials from viewers found on the street.
"It's been an amazing ride," he said backstage, surrounded by some of the show's familiar props, including chalk ("We buy by the case," he said). "I've made some amazing friends, namely, you."
Beck spent most of the hour looking back. "We made a lot of enemies on this program," he said, from "the president to the Republicans to George Soros."
"We have not only survived," he said. "We have thrived."
He dismissed his frequent critics, like Jon Stewart, who Beck mocked for having a team of writers to produce a six-minute monologue on "The Daily Show." Beck boasted his two-man writing team helps him craft his 42-minutes a night. "It's easy to speak from the heart," he said.
Beck also mocked the criticism itself. "I'm the first Anti-Semitic Jew lover," he said. "I don't know how that's even possible."
While his relationship with some in the News Corp. building has frayed, Beck took time out to thank Fox News chief Roger Ailes ("I won't work with a smarter person ever"), News Corp. chairman Rupert Murdoch and primetime star Bill O'Reilly "for their trust."
Beck didn't mention Fox News' plan--
announced today
--to replace him with a roundtable show, "The Five." But he frequently plugged his website, GlennBeck.com, directing viewers wanting to follow his post-Fox career there. (The site redirects to GBTV.com, where Beck was due to host a webcast a half hour after his Fox News show ended.)
Beck is leaving, he said, because his show has outgrown the medium.
"This show has become a movement," he said. "It doesn't belong on television. It belongs in your homes, in your neighborhoods--not on TV."
Beck has been known to cry on the air with John Boehner-like frequency. But tonight, there were no tears.
"From New York," he said signing off, "Goodnight America."