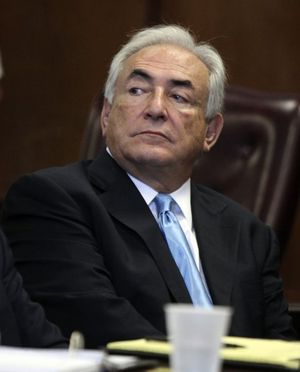 New York- Former IMF chief Dominique Strauss-Kahn walked out of court without bail Friday, freed from house arrest, after prosecutors acknowledged serious questions about the credibility of the hotel housekeeper who accused him of sexual assault.
The charges, which include attempted rape, were not dropped, but the easing of his bail conditions signaled that prosecutors do not believe the accusations are as ironclad as they once seemed.
"It is a great relief," said Strauss-Kahn's attorney, William Taylor. "It is so important in this country that people, especially the media, refrain from judgment until the facts are all in."
After his arrest, Strauss-Kahn, 62, resigned from his post leading the International Monetary Fund and watched his presidential ambitions in France seemingly crumble. He had been confined for weeks to a luxury New York City loft on $6 million in cash and bond.
The 32-year-old hotel maid accused Strauss-Kahn of chasing her through his luxury suite in May, trying to pull down her pantyhose and forcing her to perform oral sex. Authorities have said they have forensic evidence of a sexual encounter, but defense lawyers have said it wasn't forced.
The stark turn in the case came after the woman admitted to prosecutors she had made up a story of being gang-raped and beaten in her homeland of Guinea to enhance her application for political asylum, prosecutors said in a letter to defense lawyers.
She also misrepresented what she did after the alleged attack - instead of fleeing to a hallway and waiting for a supervisor, she went to clean another room and then returned to clean Strauss-Kahn's suite before telling her supervisor that she had been attacked, prosecutors said.
She also misrepresented her income and claimed someone else's child as her own dependent on tax returns, they said.
The details speak to the maid's credibility and whether her story would stand up under oath in a prosecution that would rely heavily on her testimony.
The woman's attorney, Ken Thompson, fired back outside court, saying the district attorney's office was backing away from the case because it was too scared to prosecute it. He said she would come out in public to tell her story but didn't specify when.
Thompson said the woman went to the district attorney with information that her asylum application was flawed, but that she exaggerated on it because she was scared she would be sent back to Guinea. He said she came to the U.S. because she was a victim of female genital mutilation, and she worried her daughter, now 15, would be victimized as well. He also said she had been raped by soldiers there, but that attack did not occur as it was written in her asylum application.
Thompson said that Strauss-Kahn bruised the woman's genitals, tore a ligament in her shoulder and ripped her stockings, and that she fought to get away.
Investigators have said they found traces of his semen on her uniform.
"From day one she has described a violent sexual assault that Dominique Strauss-Kahn committed against her," Thompson said. "She has described that sexual assault many times, to prosecutors and to me, and she has never once changed a single thing about that encounter."
Thompson also said that news reports saying his client was involved with a drug dealer were lies.
The New York Times
, quoting unidentified law enforcement official, reported that the woman was recorded on the phone with an incarcerated man around the day she made the allegations, discussing whether to press her case in court.
The newspaper said the man had been arrested on marijuana possession charges and had deposited cash in the woman's bank account.
"It is clear that this woman made some mistakes, but that doesn't mean she's not a rape victim," Thompson said.
Strauss-Kahn arrived at the courthouse Friday morning in a Lexus SUV and strode confidently up the granite steps with his wife, French journalist Anne Sinclair, at his side.
After the hearing, he slowly walked out the building with his arm on her shoulder, smiling at the throng gathered outside.
He was not given back his passport, and he will not yet be allowed to leave the country. His other attorney, Benjamin Brafman, said Strauss-Kahn would be free to travel within the U.S.
Prosecutors offered few details inside court on the turn in the case. Assistant District Attorney Joan Illuzzi-Orbon said a further investigation caused them to reassess it.
"At the time this case came to the district attorney's office, we were faced with a credible claim of a serious sexual assault," she said, noting the accuser had promptly reported the alleged attack and had a "solid work history."
State Supreme Court Justice Michael Obus, in releasing Strauss-Kahn, said there would be no rush to judgment either way.
Illuzzi-Orbon said, "Although it is clear that the strength of the case has been affected by the substantial credibility issues regarding the complainant, we are not moving to dismiss the case at this time."
If the case collapses, it could once again shake up the race for the French presidency. Strauss-Kahn, a prominent Socialist, had been seen as a leading potential challenger to conservative President Nicolas Sarkozy in next year's elections - until the New York allegations embarrassed his party and led to his resignation from the IMF.
"Those who know Dominique Strauss-Kahn will not be surprised by this evolution of events," one of his French lawyers, Leon Lef Forster, told The Associated Press in Paris. "What he was accused of has no relation to his personality. It was something that was not credible."
New doubts about Strauss-Kahn's accuser would also revive speculation of a conspiracy against Strauss-Kahn aimed at torpedoing his presidential chances. Within days of his arrest, a poll suggested that a majority of French think Strauss-Kahn, who long had a reputation as a womanizer and was nicknamed "the great seducer," was the victim of a plot.
Strauss-Kahn was held without bail for nearly a week after his May arrest. His lawyers ultimately persuaded a judge to release him by agreeing to extensive - and expensive - conditions, including an ankle monitor, surveillance cameras and armed guards. He was allowed to leave only for court, weekly religious services and visits to doctors and his lawyers.
The security measures were estimated to cost him $200,000 a month, on top of the $50,000-a-month rent on the townhouse in the city's TriBeCa neighborhood.
Under New York law, judges base bail decisions on such factors as the defendant's character, financial resources and criminal record, as well as the strength of the case - all intended to help gauge how likely the person is to flee if released.
Strauss-Kahn is slated to return to court July 18.