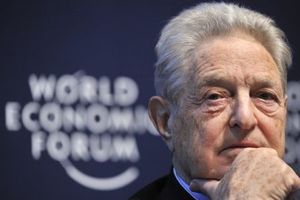 Billionaire George Soros says Europe's debt crisis has brought the eurozone to the brink of an "economic collapse" and inevitably some of its members will leave the union.
"There's no arrangement for any countries leaving the euro, which in current circumstances is probably inevitable," Soros said at a panel discussion in Vienna, Austria on Sunday, Bloomberg reported.
He added, "We are on the verge of an economic collapse which starts, let's say, in Greece, but it could easily spread. The financial system remains extremely vulnerable."
"I think most of us actually agree that Europe's crisis is actually centered around the euro," the 80-year-old investor added.
"It's a kind of financial crisis that is really developing. It's foreseen. Most people realize it. It's still developing. The authorities are actually engaged in buying time. And yet time is working against them," he said.
The comments come as Greek politicians are debating a new round of austerity measures tied to the country's bailout.
A vote is expected on Wednesday amid widespread protests against plans to further slash the public sector and hike taxes.
Greece was the 12th country to adopt the shared currency in 2001, while Estonia is the newest member of the euro region, joining in January 2011.