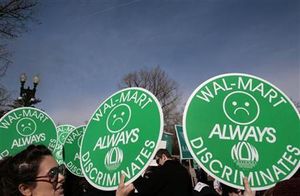 The U.S. Supreme Court threw out on Monday a massive class-action sex-discrimination lawsuit against Wal-Mart Stores Inc, the biggest ever such case, in a major victory for the world's largest retailer and for big business in general.
The justices unanimously ruled that more than 1 million female employees nationwide could not proceed together in the lawsuit seeking billions of dollars and accusing Wal-Mart of paying women less and giving them fewer promotions.
The Supreme Court agreed with Wal-Mart, the largest private U.S. employer, that the class-action certification violated federal rules for such lawsuits.
It accepted Wal-Mart's argument that the female employees in different jobs at 3,400 different stores nationwide and with different supervisors do not have enough in common to be lumped together in a single class-action lawsuit.
The ruling was cheered by the U.S. Chamber of Commerce business group as the most important class action case in more than a decade but denounced by women's groups.
It represented a major victory for Wal-Mart, which also has faced legal battles including an attempt to unionize and to block the giant retailer from opening stores in New York and other places.
"We are pleased with today's ruling and believe the court made the right decision. Wal-Mart has had strong policies against discrimination for many years," the Bentonville, Arkansas-based company said in a statement.
Wal-Mart shares were up 18 cents to $53.02 in late trading after rising as much as 1.3 percent earlier in the day.
Gisel Ruiz, a company executive vice president, said the ruling effectively ended the class-action lawsuit.
Theodore Boutrous, Wal-Mart's lead attorney in the case, told reporters, "This decision will have a significant impact on other class actions."
The court rejected class-action status but three remaining female plaintiffs still can pursue their individual claims.
Class Action Ends But Litigation Doesn't
Lawyers for the plaintiffs acknowledged the ruling raised substantial hurdles to bring such challenges forward but warned that Wal-Mart may regret this route because it could lead to lengthier litigation in many more courtrooms.
"I think it is a big win for very large companies because I think part of the message from the majority's decision is ... there are companies that are too big to be held accountable in a single forum for these kinds of practices," said Joseph Sellers, a lawyer for the women who sued the retailer.
He said they were considering options that included pursuing class-action lawsuits with smaller groups of women or proceeding individually, noting that more than 12,000 people have contacted them about discrimination at Wal-Mart.
Two employees of Wal-Mart and its Sam's Club stores who were leading the class-action effort were disappointed with the ruling but said that they would continue their claims.
"We still are determined to go forward and we still are determined to present our case in court and I believe that we will prevail there," said Wal-Mart employee Betty Dukes.
The ruling in the biggest business case of the high court's 2010-11 term could affect pending class-action lawsuits against the tobacco industry and Costco Wholesale Corp.
White House spokesman Jay Carney said ending pay discrimination was a key priority for President Barack Obama but that the U.S. government was not a party to the lawsuit.
"Our lawyers are studying the decision right now to determine what effects it might have," Carney said.
The Obama administration did not take a position in the top court case, although the federal government's Equal Employment Opportunity Commission previously supported the workers.
Most Important Class-Action Ruling Since 1960s
Christopher Landau, an attorney at the Chicago-based Kirkland & Ellis law firm, called it the most important class-action decision since the 1960s. "The days of 'drive-by' class certification are over," he said.
Justice Antonin Scalia concluded for the court majority that the Wal-Mart class was not properly certified.
"Because respondents wish to sue about literally millions of employment decisions at once, they need some glue holding the alleged reasons for all those decisions together," he said.
The court's four other conservatives joined all of Scalia's ruling. The court's four liberals joined part of it but dissented in another part.
Large class-action lawsuits make it easier for big groups of plaintiffs to sue corporations and they have led to huge payouts by tobacco, oil and food companies.
Companies such as Wal-Mart have sought to limit such lawsuits to individual or small groups of plaintiffs. The Supreme Court, with a conservative majority that often ruled for businesses, has rejected huge class-action lawsuits.
The Supreme Court case is
Wal-Mart Stores Inc v. Betty Dukes, No. 10-277
.
Additional reporting by Jessica Wohl in Chicago, Moira Herbst in New York and Jeremy Pelofsky and Matt Spetalnick; Editing by Doina Chiacu and Bill Trott