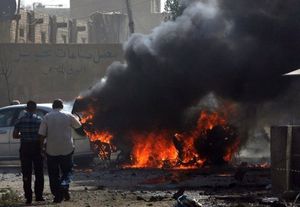 Baghdad - A bomb exploded next to a French embassy car in south Baghdad on Monday wounding seven Iraqis, but four French security personnel inside the armoured vehicle escaped unhurt, the embassy and Iraqi sources said.
The embassy told AFP the bomb exploded as a single armoured car with four French guards on board was passing, but an interior ministry official said the improvised bomb was aimed at a French convoy and that four Iraqi guards protecting it were wounded, together with three passers-by.
"The bomb targeted a passing French diplomatic convoy. Four Iraqi guards protecting the convoy were hurt, and three people passing by were also wounded," the interior ministry official told AFP immediately after the explosion.
A medical source at Ibn Nafis hospital said it had received seven wounded Iraqis, among them four guards.
The bomb struck near the French ambassador's residence in the Mesbah district of southern Baghdad, and an embassy vehicle damaged by the explosion was left at the site, an AFP journalist said.
"A single armoured vehicle carrying four French embassy guards was damaged by a roadside bomb at 8:17 am (0517 GMT)," said Denis Gauer, the French ambassador who recently arrived in Baghdad to take up his post.
"No one in the car was hurt and there is no indication the bomb was especially targeting this vehicle," he told AFP.
A witness said the bomb appeared to have been placed under a parked vehicle.
"A bomb under a parked car exploded as soon as a blue 4x4 vehicle from the embassy arrived. The embassy car was hurled forward a few feet," said Abu Hassan who saw the explosion.
Violence has plummeted in Iraq since its peak in 2006 and 2007, when tens of thousands of people were killed in clashes between Sunni and Shiite Arabs and in insurgent attacks. But bombings and kidnappings remain common.
Official figures put the death toll from attacks in May at 177, most of them killed by roadside bombs or with silencer-fitted handguns.
In other attacks in Baghdad and elsewhere in Iraq, at least four people were killed and nine wounded by gunmen and a car bomb on Monday, an army colonel and interior ministry sources said.
The dead included an army officer and a policeman who were shot dead in different parts of Baghdad, and the mayor of the town of Al-Shar in central Baquba province, killed by gunmen who raided his home.
A car bomb also killed a civilian in another northeastern district of the capital.
In the northern province of Kirkuk, gunmen kidnapped a 37-year-old businessman on Monday and an 81-year-old optometrist the day before, a police source said.
Kidnappings are common across Iraq, especially in multi-ethnic and multi-religious Kirkuk.
The rise in violence comes with only months to go before US troops, in Iraq since the 2003 invasion, are due to complete a pullout under the terms of a bilateral security pact.
Monday's attack comes as eight US soldiers have been killed on duty so far this month, and an Al-Qaeda-style June 14 raid by gunmen against government offices in the central city of Baquba in which seven people were killed.
Meanwhile, defence ministry spokesman Mohammad al-Askari said that 17 Al-Qaeda suspects were arrested in the main northern city of Mosul on Monday, among them a Tunisian whom he did not name but said was a leading Al-Qaeda member.
Private security firm AKE Group said this month that attacks have been on the rise since the start of the year, with violent incidents averaging more than 10 a day in May, up from four to five a day in January.