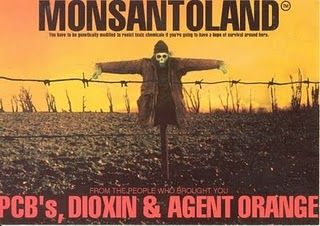 Editor's Note: Taxpayers paid Monsanto to make it, paid for the medical effects on soldiers, and now are paying to clean up the toxic environment left in Monsanto's trail of death. Interestingly, Monsanto's name does not appear anywhere in this article.
Hanoi - The first step of a US-funded operation to clean up Agent Orange contamination at a wartime American base in Vietnam began Friday, officials said, almost four decades after the end of the conflict.
Authorities started by removing unexploded ordnance at the site, part of the grounds of an airport in the central Vietnamese city of Danang, having identified it as a "hot spot" of potentially cancer-causing dioxin.
"This effort is a key first step... to clean up the dioxin-contaminated soil and sediment at the airport," the US embassy said in a statement.
The project will remove dioxin from 29 hectares (71.6 acres) of soil "that can be used for economic and commercial activities, and reduce human exposure to the chemical and potential health impacts," Vietnamese Major General Do Minh Tuan said in the release.
During the Vietnam War US aircraft flying from bases including Danang sprayed Agent Orange and other herbicides, which contained dioxin, to strip trees of foliage, in a bid to deprive communist forces of cover and food.
Both sides said the cleanup effort demonstrated cooperation between the two former enemies, whose relationship has grown across a wide range of areas since the restoration of diplomatic relations 16 years ago.
The embassy said the Danang works will cost more than $32 million, which the US is funding in its entirety, and that both sides hoped to complete the project by October 2013.
The United States is focusing its help on Danang, at Vietnam's request.
Experts have identified two other former US air bases as "hot spots" of dioxin contamination.
The UN last year announced a $5 million project to reduce contamination at the Bien Hoa airport hot spot near Ho Chi Minh City.
More than
three million
Vietnamese have suffered the effects of wartime herbicides, a Vietnamese doctor testified before the US Congress.
A Vietnamese victims' group has said the US military sprayed about 80 million litres (21 million gallons) of herbicides, much of it Agent Orange, over southern Vietnam during a 10-year period.