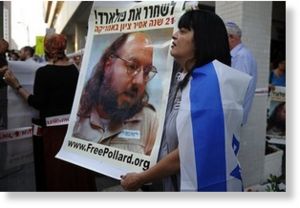 Several Israeli leaders on Sunday urged the United States to allow jailed Jewish-American spy Jonathan Pollard to attend his father's funeral, after he was not granted permission to join him at his bedside before he died.
Several politicians had tried in vain to convince US authorities to allow Pollard, who is serving life imprisonment, to visit his father before his death on Saturday.
"I know that the prime minister (Benjamin Netanyahu) did his best to enable Pollard to see his sick father," Culture Minister Limor Livnat told reporters.
"Unfortunately, there was no response to our requests for Pollard to meet his father before his death," said Science Minister Daniel Hershkowitz.
"I really hope the US administration will demonstrate a minimum of humanity by allowing him to leave prison after 26 years to attend the funeral of his father," he added.
Meanwhile Netanyahu's office sent a message to the White House "about the funeral of Jonathan Pollard's father," a senior official told AFP on condition of anonymity, without giving further details.
Meanwhile dozens of Pollard supporters rallied outside the US embassy in Tel Aviv on Sunday evening, carrying placards bearing messages that said: "Free Pollard," an AFP photographer said.
Pollard, a former US Navy analyst,
passed thousands of secret documents about American spy activities in the Arab world to Israel between May 1984 and his arrest in November 1985
.
He was granted Israeli citizenship in 1995 and was officially recognised by the Jewish state as an Israeli spy in 1998.
Israelis say 56-year-old Pollard's punishment and the long-standing US refusal to reduce his sentence have been particularly harsh, given that he gave information to a friendly nation.
Netanyahu announced in January that he would officially seek Pollard's pardon and release in a letter to Obama.
The White House later confirmed receipt of the request, which it said would be studied before any decision was made.