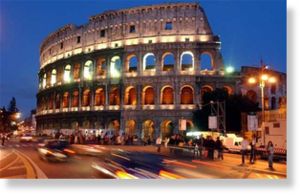 Moody's has threatened to cut Italy's credit ratings on concerns over a possible rise in eurozone interest rates may derail the country's fragile economic recovery, raising more fears of contagion from the Greek debt crisis
Moody's announcement placing Italy's Aa2 rating on review for downgrade of the next 90 days came after European markets had closed for the weekend.
The agency said structural weaknesses such as a rigid labor market posed a challenge to growth.
Italy's potential downgrade highlights the risks facing indebted European countries as they struggle to avoid a Greece-style crisis.
Markets are worried that Italy, like Greece, will struggle to make the necessary spending cuts and other fiscal measures needed to cut its debts to affordable levels.
"The Moody's news on Italy reinforces the ECB's concern about the prospect of contagion. And contagion should not happen," said Greg Salvaggio, senior vice president at Tempus Consulting in Washington.
"As a result, I think there's a going to be a package put together over the weekend, which is going to effectively offer Greece another lifeline."
Moody's analyst Alexander Kockerbeck told Reuters: "Italy has had structural impediments to growth for some time. However, today, these challenges coexist with a scenario of rising interest rates and fragile market sentiment."
The European Central Bank held interest rates steady at 1.25pc this month but signaled that it will raise rates in July.
Earlier on Friday, Greek bonds rallied as a tentative agreement by France and Germany on broad steps over how to move forward with a second Greek aid package prompted investors to cash in on recent gains in German.
However, analysts and economist expect markets to remain volatile next week.