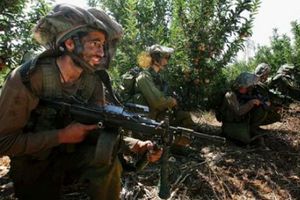 Israeli troops have once again crossed into Lebanon in a failed kidnapping operation inside the country in clear defiance of a UN Security Council resolution.
Israeli troops crossed the border and entered the village of Kfar Shouba on Friday to abduct Lebanese Shepherd Ala Nabaa, a Press TV correspondent reported, adding that the Lebanese national; however, managed to escape.
Meanwhile, four Israeli warplanes violated Lebanese airspace, flying over different parts of the country for more than two hours, a statement released by the Lebanese military read on Friday.
The latest intrusion comes one day after an Israeli reconnaissance plane entered Lebanon's southern airspace and remained in Lebanese territory for almost 24 hours.
Israel violates Lebanon's airspace on an almost daily basis, claiming the flights serve surveillance purposes.
The Lebanese government, the Hezbollah resistance movement, and the UN Interim Force in Lebanon, known as UNIFIL, have repeatedly cited Israel's air surveillance flights over Lebanon as flagrant violations of UN resolution 1701 and the country's sovereignty.
UN Security Council Resolution 1701, which ended Israel's war against Lebanon in 2006, calls on Israel to respect Lebanon's sovereignty and territorial integrity.