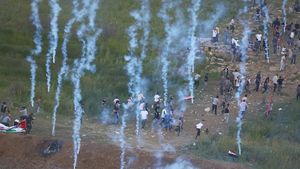 Israel faces a new attempt to breach its border with Syria after weekend confrontations on the Golan Heights left several people dead and scores injured.
Protesters who tried yesterday to break through the border were preparing for their third attempt in three weeks.
Syrian state television claimed 20 protesters were killed and the Israel Defence Forces said the figure was more likely to be 10.
It said thousands were making their way towards the border and many were sleeping at the site in preparation for another attempt tonight.
Clashes also occurred yesterday for several hours between Israeli soldiers and Palestinian protesters between Jerusalem and Ramallah.
Israel Radio News reported Syrian opposition figures saying people who participated in yesterday's demonstration received $US1000 ($931) each while the state had offered $US10,000 to the family of anyone killed trying to cross the border.
Israel took the Golan Heights from Syria after the Six-Day War in 1967 and says it fired only after warnings. The Palestinians said they were protesting against 44 years of "occupation".
On May 15, hundreds of protesters caught the IDF by surprise and broke through the border to mark "Nakba" day -- an Arabic word for "catastrophe", which some Palestinians say marks the plight of Palestinian refugees following the establishment of Israel in 1948.
Yesterday, Israeli soldiers prevented protesters from breaking the border.
Israeli officials said attempts to breach the border appeared to have been orchestrated by the Syrian regime of Bashar al-Assad as a diversion against his own uprising, in which 70 people were killed on Friday alone.
They said the fact there was no attempt by Palestinian refugees in Lebanon to breach the border with Israel supported this.
Israel's Deputy Foreign Minister, Danny Ayalon, said Syria was using Palestinian refugees as "cannon fodder" and Israel had a responsibility to protect its sovereignty.
Leading Israeli commentator Alex Fishman reflected the mood in Israel when he wrote in Yedioth Ahronoth: "The Palestinians continue to be pawns in the hands of the regimes in Syria, Lebanon, Jordan, Egypt and the Palestinian Authority.
"If these regimes will it, they use them, and if they will it, they prevent them from taking any action.
"In Lebanon, the government decided, and Hezbollah approved, for there not to be demonstrations, and so there weren't."
The Palestinians said the protesters were Palestinians trying to return to their homes.
Fatah official Hossam Zomlot said there had been resolutions stating that under international law, the border at the centre of the confrontation was not Israel's border but rather occupied Syrian territory.
"These are very peaceful, marching people to try to break into their own homes, back to their occupied territories that have been denied, to go back despite the fact they have been granted such a right by successive international resolutions," he told the BBC.
UN Secretary-General Ban Ki-moon said he "condemns the use of violence and all actions intended to provoke violence".
He said yesterday's events and those of May 15 put the long-held ceasefire along the border in jeopardy.