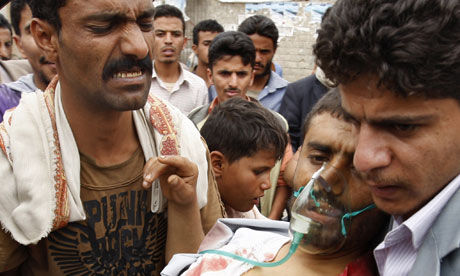 The crisis engulfing Yemen deepened on Wednesday with dozens of people killed as President Ali Abdullah Saleh reinforced his troops after heavy clashes with gunmen loyal to an influential tribal leader.
Overnight street battles left at least 41 people dead, some trapped in burning buildings. Fighting raged until dawn as presidential guard units shelled the headquarters of an army brigade responsible for protecting government institutions.
Arab embassies were said to be evacuating their staff and the few remaining western residents were being advised to leave urgently. The Foreign Office is urging all Britons to leave while flights are still available in a situation diplomats described as "worse than Libya."
Comment: It's "worse than Libya" because unlike in the Mediterranean country, Yemen's government is actually killing civilians by violently suppressing dissent. Yet there are no warships lined up to launch cruise missiles at this leader's residence. Why is that?
Residents of Sana'a woke to a chorus of birdsong and machinegun fire as plumes of smoke rose into the sky, mortar blasts rattling windows and nerves. Heavy clashes resumed as Saleh's republican guard forces equipped with heavy artillery pushed the tribesmen out of government buildings. By nightfall they had wrested back control of several key positions.
The week's gun battles between rebel tribesmen and Saleh's troops have already claimed 200 lives and the confrontations are fanning fears of civil war.
Life in the capital is growing fierce and desperate. Sana'a's eastern suburb of Hasaba - the centre of the clashes so far - is a ghost-town where Kalashnikov-wielding tribesmen stalk the streets.
Cars and buses with bags strapped to the roofs filtered their way out of the city. "No safety, no electricity, no water, no phone network, and people with no jobs, the situation is very bad these days," said Ahmed Zaid, who scratches a living by ferrying people to Tagheer Square, centre of the protests, on his battered motorbike. "I'm terrified for my family, we're leaving tomorrow, inshallah," he said.
The home of Sadeq al-Ahmar, the Hashid tribe's most prominent sheikh, lies dark. It was an attack by government forces on al-Ahmar's home, a gothic style mansion, last week that triggered the clashes.
Several sheikhs attending a tribal mediation were killed when the house was hit directly by government artillery. It has been the target of shelling ever since and now lies in near ruins. Windows have been blown out and parts of the facade litter the street. Blood is splattered on the walls .
The conflict between the security forces and the Hashid erupted after Saleh refused to sign an agreement brokered by Saudi Arabia and other Gulf states requiring him to give up power within 30 days. Violence has escalated across Yemen since then, with at least 21 people killed in the southern city of Taiz on 30 May, one of the bloodiest days in four months of protests in the poorest country in the Arab world.
Key military leaders defected in March after Saleh loyalists fired on demonstrators calling for an end to his 33-year-old rule. Yemen is on the brink of financial ruin, with about a third of its 23 million people facing chronic hunger. It is running out of oil and water.
Western policy is largely dictated by concern that al-Qaida in the Arabian peninsula will take advantage of the chaos to plan new attacks.
Comment: The CIA in the Arabian peninsula has long been there, sowing chaos on behalf Washington's efforts to control the Middle East.
In Washington, the US secretary of state, Hillary Clinton, criticised Saleh's refusal to relinquish office.
The two sides blamed each other for breaking a ceasefire that halted three days of fighting last week.
The violence has overshadowed the protests that erupted on 11 February calling on Saleh to step down. The president, whose term ends in 2013, has said he is willing to hold early elections, a call that has so far been rejected by the opposition Joint Meeting Parties.
It is still unclear whether Saleh is holding out for a better exit deal such as a guaranteed position in a future government or intends to try to ride out demands for his resignation until his term officially ends. If it is the former he appears to be making a blunder, since the likelihood of a managed transition are fading and attempts to forcibly oust him are becoming more likely.
"Even if Saleh can defeat all those challenging him, his ability to 'govern' the country in any coherent sense of the word is gone forever," said the Yemeni political analyst, Abdul Ghani Iryani.
"Even in the most autocratic regimes, governance relies on some degree of acceptance of authority. In Yemen there is no sign whatsoever that this exists. Either Saleh leaves power through a political deal he brokers from a position of weakness or he is ousted by force by breakaway military groups and tribal leaders."