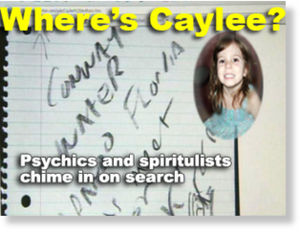 Cindy Smith calls herself a spiritualist and not a psychic. Smith has spoken with the Anthony family and on Monday, she spoke with investigators to say that she knows where missing Orlando toddler Caylee is.
With few clues in the search for the missing three year old, some have suggested that the Anthonys turn to the world of the paranormal for leads.
Cindy Anthony claims that her family has not consulted with a psychic. She denied such a meeting when questioned by FOX 35. "No. No, we haven't," she said with a look of amusement. "It's not funny, but it is. You know there are probably people out there who have a power or a gift. We're told that they're following up on those as well."
Two weeks ago, FOX 35 crews observed Cindy Smith leaving the Anthony home. Smith shared details of her visit. "I told her (Cindy Anthony) 'I was gonna bring her home,' that 'she was not going to be happy, but I was going to bring her home' "
Smith claims she can "see things" by laying her hand on a person's belongings. She stopped short of describing these visions as those of clairvoyance.
"I went into Caylee's bedroom, but I knew before I went into her bedroom that it wasnt good. And if I go in and touch something its revealed to me."
Smith isn't the only one with a sixth sense who are assisting in the search for Caylee. There a number of websites where people are using mind power to track down Caylee. At BriansDreams.com, for example, Brian Ladd and a team of others try to crack the case using dreams as a compass.
According to FOX News, members of another group which calls themselves "Body Hunters," are driving around the streets of Orlando looking for the missing girl.
Cindy Smith did speak to Sgt. John Allen with the Orange Co. Sheriff's Office on Monday, offering what information she could to help out with the search. "I told him he is looking in the wrong place that he needs to concentrate on a diff place I told him exactly where he needs to go.
Smith told FOX 35 that she believes that Caylee is close, definitely in Central Florida. In her vision, she says she clearly sees shoes covered with "pink flowers." She wouldn't offer too many specifics beyond that.