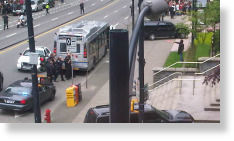 A standoff between police and a man armed with a sword at a busy downtown Vancouver intersection ended after the man was first shot with non-lethal ammunition and then tasered.
The man still tried to flee and had to be tackled before he was subdued.
Bill Wallace, visiting from Tuscaloosa, Alabama, said he saw "rubber bullets" bouncing off the ground after an officer opened fire on the man, who was standing in the shadow of Christchurch Cathedral at Burrard St. and West Georgia in the city core.
"They shot him in the legs. He went, 'Oh, oh. Then he started running and got in the middle of the street," said Mr. Wallace. He said an officer tripped the man but he ran again, and was tackled by several officers and cuffed.
As the man was taken into custody, Mr. Wallace said he was yelling, "I hate you all," to hundreds of stunned onlookers.
Bystander Florian Schafer, visiting from Berlin, said the man's leather jacket appeared to have interfered with projectiles fired at him.
"That's why he could keep on running," said Mr. Schafer, attending a conference on his third visit to Vancouver.
"I didn't expect this to happen in downtown Vancouver," he said.
"It was big surprise, but bad things happen all over the world."
He said the man appeared to be very angry, and threatening to kill himself.
He said police unwrapped the item the man was carrying. "It was a huge sword, about a metre."