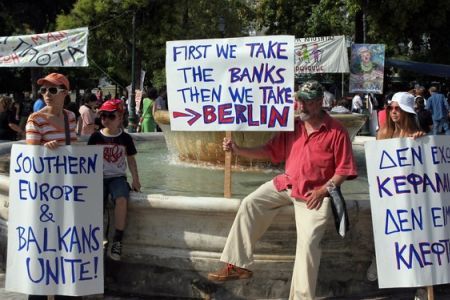 Thousands of people have once again flocked the streets in Athens, protesting for a fifth day against their government's austerity policies, inspired by the M-15 movement in Spain.
Police estimated some 30,000 protesters to have gathered at the central Syntagma Square in the Greek capital of Athens, in the largest set of anti-government demonstrations since Wednesday.
Sunday's demonstration however, was inspired by an online campaign on various social network sites, which called for anti-government demonstrations across all of Europe, modeled by the Spanish M-15 movement, AFP reported.
Further, the online campaign called on the demonstrators to demand "real democracy."
Banners that read "poverty is the greatest abuse" were used in the demonstrations in front of the parliament building in Athens.
Other groups of protesters were beating empty pots while chanting "thieves".
"I'm here to say that I've had enough. It's not right to have to pay for politicians' mistakes," said Vivi Villa.
She did however, admit that leaders will not take their actions seriously and so nothing will in fact change.
The protests come as the Greek government is planning to impose a new austerity package in efforts to secure the new International Monetary Fund (IMF) bailout installment.
Greece received a 110 billion EU-IMF bailout loan last year, as it faced a massive debt crisis.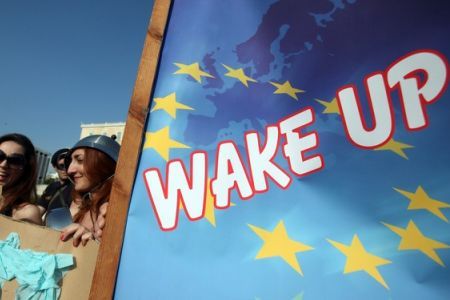 The bailout loan saved Greece from the brink of default. However, Athens was obliged to implement a strict austerity package, including the cutting of public sector salary and pensions, increasing taxes and overhauling the pension system, to survive.
Moreover, the country is again struggling to not face yet another debt crisis, as it is again seeking financial aid.
Since last year, Greece has witnessed several violent clashes between police forces and protesters, where many on both sides have been injured.
Sunday's protests however, was the largest gathering yet since the protests commenced again this Wednesday.
A poll conducted recently, found that Greeks no longer have confidence their government can pull the country out of their national debt, as reported by AFP.
A further 57 percent agreed that "approved or somewhat approved" of the anti-government demonstrations taking place. The poll was published in the Greek daily
To Vima.