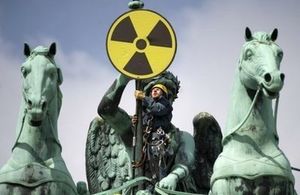 Chancellor Angela Merkel said Germany could serve as a global trailblazer with its decision Monday to phase out nuclear power by 2022 in favour of renewable energy sources.
Merkel said the "fundamental" rethink of energy policy in the world's number four economy, which was prompted by the disaster in March at Japan's Fukushima plant, opened up new opportunities for business as well as climate protection.
"We believe we as a country can be a trailblazer for a new age of renewable energy sources," she told reporters.
"We can be the first major industrialised country that achieves the transition to renewable energy with all the opportunities -- for exports, development, technology, jobs -- it carries with it."
The plan, hammered out by Merkel's ruling coalition in marathon overnight negotiations, will see Germany shutter all 17 of its nuclear reactors, eight of which are currently off the electricity grid, within 11 years.
"We want the electricity of the future to be safer and at the same time reliable and affordable," Merkel told reporters as she accepted the findings of an expert commission on nuclear power she appointed in March.
"We learned from Fukushima that we have to deal differently with risks," added the chancellor, whose popularity had suffered over her earlier pro-nuclear stance.
Seven of the eight reactors already offline are the country's oldest, which the government shut down for three months pending a safety probe after the Fukushima emergency.
The eighth is the Kruemmel plant, in northern Germany, which has been offline for years because of technical problems.
Six further reactors will shut down by the end of 2021 and the three most modern will stop operating by the end of 2022.
Monday's decision, which could run into legal challenges from energy companies, means Germany will have to find the 22 percent of its electricity needs that were covered by nuclear power from other sources.
A draft implementation plan to be debated next week would focus on hiking energy efficiency to reduce electricity use, building new power plants fired by natural gas and coal, expanding the production of wind energy, and improving the supply network from wind farms in the north to the rest of the country.
However thorny questions remained unanswered including finding a permanent storage site for the highly radioactive waste from nuclear plants.
The government has also failed to explain how it can maintain its goal of slashing CO2 emissions 40 percent by 2020 compared to 1990 levels while it burns more gas and coal during a transition period.
Merkel dismissed fears of blackouts, saying the government had developed a contingency plan which would allow a reactivation of nuclear power in an emergency in the two winters after the phase-out.
The decision is effectively a return to the timetable set by a previous Social Democrat-Green coalition government a decade ago.
It is a humbling U-turn for Merkel, who in late 2010 decided to extend the lifetime of the reactors by an average of 12 years. This would have kept them open until the mid-2030s.
That decision was unpopular even before the earthquake and tsunami that severely damaged the Fukushima facility, sparking mass anti-nuclear protests in Germany.
Merkel's zig-zagging on what has been a highly emotive issue in the country for decades cost her in recent state elections as the anti-nuclear Greens gained ground.
Nuclear opponents slammed the deal Monday and said they would stage fresh demonstrations next month to demand a faster phase-out.
The Fukushima accident has sparked a renewed global debate about the safety of nuclear power, with opinions differing widely.
Sweden's environment minister criticised Germany's decision, saying it would lead to a disjointed energy policy that failed to adequately address climate change, while nuclear-free Austria welcomed it.
The United States and Britain have announced plans to build new reactors as an alternative to producing harmful greenhouse gas emissions while ensuring a relatively cheap supply of energy.
Italy scrapped nuclear power in 1987, one year after the Chernobyl disaster, while neighbouring Switzerland said last week it would phase out atomic energy by 2034.
Source: Agence France-Presse