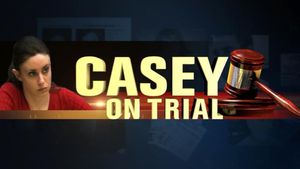 Orange County, Fla. -- Day 15 of Casey Anthony's murder trial began on Friday with the defense's motion to renew a motion for a mistrial, being denied, and a witness describing Casey's relationship with her daughter as, "amazing."
Casey Anthony entered the courtroom just before 8:30am, wearing dark pants and a black vest over a white shirt. She had her hair pulled back in a bun.
Chief Judge Belvin Perry quickly denied the defense's motion that Casey's lead attorney, Jose Baez, filed Thursday morning at 8:30am to renew a motion for a mistrial.
Judge Perry then called court to order at 9:00am.
The fiancee of Casey's brother, Lee Anthony, testified on Thursday that Casey had an "amazing" relationship with her 2-year-old daughter, Caylee, who she is accused of killing.
Mallory Parker testified Friday that Casey had a special bond with Caylee.
"How was Casey and Caylee's relationship?" Parker was asked.
"It was amazing," she replied. "Casey and Caylee had a very special bond."
Parker broke down crying, and Casey also had to wipe tears away.
Parker was called to the witness stand by prosecutors who coaxed her into describing how Casey's brother and she had searched for Casey in Orlando bars in an attempt to locate her when her family hadn't seen her in many days during the summer of 2008.
Prosecutors say she was having fun with friends around the same time her daughter went missing.
William Waters was called to the stand on Friday. He said Casey and friend were planning on getting a house together to have a nanny take care of their children. He testified that Casey said she worked as an event coordinator at Universal Studios.
"She loved her job," Waters said.
He described the shopping trip he made with Casey while she was essentially "fake shopping" for furniture so Casey could move into a new home with Caylee and a friend.
"Her and a friend of hers were looking for a stay-in nanny so they'd have their house together," Waters said.
The defense was also dealt a couple of blows. Judge Perry ruled in favor of prosecutors, forcing defense to reveal questions before the jury is present if they plan to ask witnesses about statements that Casey may or may not have said or what might be considered "hearsay."
The defense also hoped to keep videos of Casey from Target and other stores out of court, saying prosecutors were trying to show a lack of remorse.
But the prosecutors argued it showed Casey's action and the judge allowed the video.
A long list of witnesses told jurors on Thursday that
Casey had no real reaction to Caylee's death
in June of 2008.
One witness recalled Casey on the phone in a car, then bragging about a deceptive conversation with the person on the other end of the call.
"When she hung up she just kind of threw the phone down and said, '
Oh my God I'm such a good liar
,'" said witness, Melissa England.
So far, no witnesses have been able to point to signs of remorse, which prompted Casey's defense attorney Cheney Mason to ask the judge for a mistrial based on case law that restricts testimony that's sole intent is to show
lack of remorse
.
Prosecutors say Caylee died from three pieces of duct tape being placed over her mouth and nose, while Casey's attorney has claimed the toddler accidentally drowned in her grandparents' pool.
Anthony has pleaded not guilty. If convicted of first-degree murder, she could be sentenced to death.