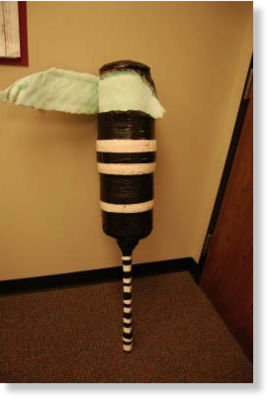 Linn County authorities are investigating complaints that a Mount Vernon elementary school principal used a padded hockey stick to deliver birthday spankings to his students.
Complaints about Principal Terry Eisenbarth's birthday "whammies" at Washington Elementary School also are under review by school board members, who met behind closed doors Wednesday night. About 70 people waited outside the meeting, parents said.
"I do not spank my kids at home on their birthdays," said Steve Wernimont, 44, who has three children. "That is not a celebration. It's being subservient to a dominating figure."
Wernimont and his husband, Ric Turnquist, said their three children, ages 9, 8, and 7, received birthday whammies last fall. The children didn't acknowledge the spankings until this month, when Wernimont said he heard about the practice and asked them about it.
The older children didn't seem to mind, but the 7-year-old boy, who has post-traumatic stress disorder and other emotional problems, "did not like it one bit," Wernimont said.
The couple said they complained to police and the school board only after Superintendent Pamela Ewell did not respond to an e-mail for several days.
Ewell and Eisenbarth did not return telephone calls Thursday.
In a letter to parents, Eisenbarth described the "pat on the backside" as a birthday tradition. He celebrated each child's birthday with an announcement on the school intercom, followed by an invitation to the principal's office.
Read the letter from the Mt. Vernon principal to parents regarding birthday spankings.
Eisenbarth gave students pencils and calculators, sang "Happy Birthday" and spanked them once for each year of their lives, the letter said.
School employees or parents often participated, and no children were injured, the letter said.
Eisenbarth, 38, said he stopped the birthday spankings someone complained that they "created an uncomfortable situation," the letter said.
"I am very sorry that I have caused discomfort to some by celebrating birthdays in this manner," Eisenbarth wrote.
The hockey stick was wrapped in Styrofoam, Mount Vernon police said.
Police initially ruled a complaint from parents was unfounded. Then they forwarded the investigation to Linn County sheriff's officials to avoid allegations of a conflict of interests.
Sheriff Brian Gardner said police "work closely" with school officials in Mount Vernon, a district of about 1,300 students.
"We're probably going to review the reports, see if there may be any holes, perhaps interview a witness and make a determination as to whether there has been a criminal offense," Gardner said.
Carol Greta, an attorney at the Iowa Department of Education, said birthday spankings don't appear to violate a state ban on corporal punishment, "which is defined as intentional physical punishment."
But school boards and state officials who oversee educator licensing can take action against employees who act inappropriately, she said.
Wernimont said the issue has divided residents of Mount Vernon.
"I've gotten calls from people who've said, 'You're ruining the image of our town,'" he said.
Other parents blame Eisenbarth, who is wrapping up his first year as elementary principal in Mount Vernon.
Kim Benesh said in a letter to the local newspaper that "the important lesson the elementary school tirelessly tries to instill of, 'Your body is your own and no one has the right to touch you' has been devastatingly thrown out the window."
Bob Penn, the school board's vice president, would not discuss the board's next move. Penn called it a personnel issue that he can't discuss publicly.
"Our mission is always to try to make decisions that are in the best interests of the kids in the district," he said. "That's what we're about."