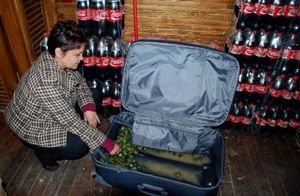 Time is running out for more than 400 turtles being kept in a water-filled suitcase as a court deliberates about what to do with a bus driver caught allegedly trying to smuggle them across the border two weeks ago.
A.N.T., the driver of a bus caught allegedly trying to enter Bulgaria with 438 turtles, was stopped during border checks at the Kapıkule border on March 15. The man allegedly intended to sell the turtles in Bulgaria although Turkey prohibits the export of the creatures.
When the police detained the driver, the turtles were placed in a trusteeship situation and taken to the İzzet Arseven Forest in the northwestern province of Edirne. However, the turtles were then put into suitcases as there was no appropriate pool in the forest for them.
Nurhan Kalender, head of the Edirne Nature and Animal Protection Association, or EDHAYKO, said they had been taking care of the turtles. "We would buy an aquarium, but we were informed that they could poison themselves with their urine because there are so many of them," said Kalender.
If a court decision to convict A.N.T. of animal trafficking comes too late, the animals could die, Kalender said, noting that the turtles will be released into the driver's care if he is acquitted. "A solution should be implemented fast."
Ahmet Kemal Şenpolat, head of the Animal Rights Federation, or HAYTAP, said officials often put animals seized during border control operations into trusteeship, but most animals die in the process. "It would be more appropriate if they decide to put the animals up for adoption, at least until the end of the legal procedures."