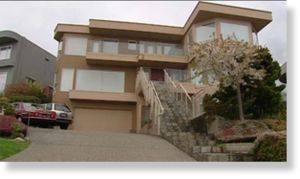 Captive woman fed table scraps, police say
A warrant has been issued for the arrest of a West Vancouver woman accused of keeping a slave.
The Crown laid one charge of human trafficking and a charge of human smuggling against the woman after investigating a report from a 21-year-old female who was allegedly recruited from Africa with a promise of a job in a West Vancouver hair salon, said RCMP Const. Michael McLaughlin.
"When she got here the reality was very different," McLaughlin said Monday. "She was working up to 18 hours a day, seven days a week in a private home. She wasn't paid. Her identity [papers] and passport were kept by the owner of the home and she wasn't getting enough food."
McLaughlin said the woman was fed table scraps, had to wash the cars of people who came to visit the house and wasn't allowed to go to bed until the owners had retired.
The young woman left the home in June 2009 after living there for one year and made her way to a women's shelter, police said.
Such charges rare
The shelter was able to provide immediate support for her while an RCMP human trafficking team started its investigation with help from West Vancouver Police, said McLaughlin.
Charged is West Vancouver resident Mumtaz Ladha.
McLaughlin said Ladha, 55, is not currently at her residence, prompting the warrant for her arrest.
The victim's allegations have not been proven in court.
McLaughlin said it's only the second time such charges have been laid in B.C.