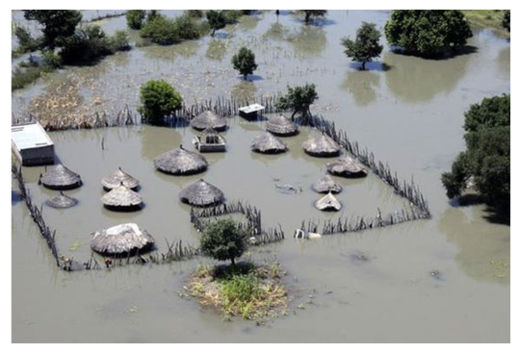 The waters of the raging floods in North-Central and North-Eastern Namibia might have subsided drastically over the last couple of weeks, but it would seemingly take more to restore the lives of an about 220 000 people estimated to have been affected by the floods.
According to the United Nation's Resident and Humanitarian Coordinator in Namibia, Kari Egge, the figure is based on the assumption that about 15 per cent of residents of the country's seven flood hit regions would carry the consequences of the disaster.
The floods resulted in the loss of lives and severe damage to properties and infrastructure; led to the closure of school and clinics, and disrupted the daily routines of those it affected. Over 100,000 learners in 324 schools were affected by flooding, of which 163 were closed, and 22 health clinics were either submerged or completely surrounded by water.
The fact that the areas prone to the annual flooding hosts more than half of Namibia's total population did not ease the burden on government. Preliminary assessments showed that the priority requirements were food, shelter, transport and education.
Humanitarian organizations such as the International Red Cross (IRC) and Unicef have moved in to provide tents for shelter; boats for mobile clinics, water purification tablets and insecticide treated mosquito nets to prevent malaria. Large camps have been set up in the Kabbe constituency in North-Eastern Namibia - Lusese being the biggest with 1,118 people accommodated.
Grim conditions
In North-central area, where between 60 and 70 per cent of residents in flood resettlement camps are women and children , the situation is equally grim. The lack of proper ablution facilities have placed heavy doubts on sanitation health at these camps. Although government is doing its best to provide a steady supply of foodstuff to the affected residents, such supply is often erratic and sporadic in nature due to logistical setbacks.
The floods have also raised the spectre of disease outbreaks and destruction of crop fields also has presented a major challenge to food security amongst the northern communities, who rely on subsistence farming. Even in towns, destruction of household property and loss of business will have a major toll on the economy of the northern regions.
Deputy Prime Minister Marco Hausiku said that government is currently prioritising relocation of villagers caught by the flood wave.