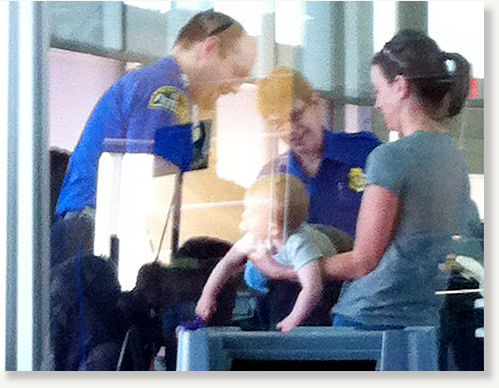 The Reverend Jacob Jester said on Wednesday he wishes he never would have posted a picture on Twitter of a baby being patted down by security agents at Kansas City International Airport.
Jester's photograph has been picked up by Internet news and blogging outlets worldwide, making the Independence, Missouri, pastor a hero of sorts to those who think security screening has gone too far.
"I'm not a political person and what happened has taken on a life of its own," Jester said Wednesday. The publicity has interfered with his personal life, said Jester, a pastor for a youth ministry.
He said the level of reaction to the picture is out of proportion to his views on the pat-down. He didn't even want to discuss those views anymore, except to refer to other media interviews in which he said he thought the pat-down was an extreme step.
After posting the photo, Jester said he became concerned the baby's mother would be upset about the publicity. But he said he has heard from her and she was not concerned. The faces of the baby and mother are turned slightly from the camera.
"I apologized to her for putting the picture out there," he said.
Jester was at the airport Saturday on his way to Albuquerque, New Mexico, when he saw the eight-month-old baby held by the mother while agents patted down the child. He took a picture and posted it on Twitter, along with a note about what he witnessed.
The picture was passed among Twitter users and then rapidly picked up by other Internet sites, including
The Drudge Report.
Security at the Kansas City airport is handled by a private company under contract with the Transportation Security Administration. The TSA, on its blog, said the stroller of the baby in question had set off an alarm during explosives screening.
"Our officers followed proper current procedures by screening the family after the alarm," the statement said. The TSA said the family cooperated with the "modified pat-down" and went readily on their way.