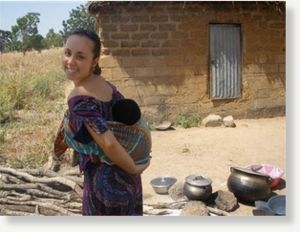 It was an extraordinarily dramatic scene, even for Congress: Three Peace Corps volunteers raped while serving overseas, plus the mother of a fourth who was murdered in Benin, complaining to lawmakers about one of the government's most revered agencies.
Their theme was similar: The Peace Corps, which happens to be celebrating its 50th anniversary this year, did little to train its workers about how to avoid or deal with violent attacks. And it reacted insensitively and unhelpfully in the aftermath of the crimes, they said.
"I want the young women who go into the Peace Corps today to be protected," said Carol Marie Clark, who testified Wednesday that she joined the Peace Corps in 1984 at age 22 in Nepal and was raped and impregnated by the program's director there.
"If anything happens to them, I want those women to be treated with compassion and respect," said Clark, now a teacher in rural North Carolina. "They should be heard, supported and healed, not blamed, reprimanded or ignored."
The women's accounts prompted Peace Corps Director Aaron S. Williams, appearing at the same hearing, to apologize for neglecting what he called his agency's top priority: the health and safety of its volunteers. He said the agency has already taken steps like writing guidelines about how to respond to sexual crimes, hiring a crime victims' advocate, and consulting with outside groups about additional steps they can take.
"The Peace Corps has not always been sufficiently responsive, compassionate or sensitive to victims of crime and their families," Williams told the House Foreign Relations Committee. "It is heart-breaking to learn, and I apologize for any additional pain the agency has inflicted on our volunteers."
No partisan divides were visible as lawmakers on the committee spoke of pursuing legislation that might take steps like improve training of volunteers and their managers abroad for preventing and responding to crimes.
The hearing follows an investigative report by ABC News revealing that hundreds of women had been raped or sexually abused while serving in the Peace Corps overseas.
"Your testimony will change the way business is being done in the Peace Corps," Chairman Ileana Ros-Lehtinen, R-Fla., told the witnesses.
The Associated Press generally does not publish the names of rape victims but the women at Wednesday's hearing testified openly to the committee and used their names freely.
The Peace Corps has sent over 200,000 Americans to serve in 139 countries since its founding in 1961 by President John F. Kennedy. Currently, more than 8,600 volunteers are at work in 77 nations.
According to Peace Corps figures, volunteers reported more than 1,000 sexual assaults from 2000 to 2009, including 221 rapes or attempted rapes. A 2010 report by the Peace Corps' inspector general found that when compared to crime statistics gathered by the United Nations from 86 countries, Peace Corps volunteers suffered higher rates of rape and burglary than every nation reporting.
Catherine Lois Puzey told the lawmakers that her daughter, Catherine "Kate" Puzey of Cumming, Ga., was killed in March 2009 after she complained by email to Peace Corps managers about a local man who worked with the volunteers - who has since been accused of the crime. She said her daughter was given no training in how to handle such problems and that the confidentiality of the email was breached, endangering her.
After her daughter was killed, she said, the Peace Corps notified the family in a phone call that provided no details; shared little information about her death over the next few months; and stopped communicating with them completely after four months. Only the family's persistence and pressure from an investigation by ABC News resulted in them getting more information, she said.
"We feel we deserve total transparency and a formal apology for any actions that contributed to her death," Puzey said.
In the ABC report, victims recalled gross mistreatment by the Peace Corps following their already traumatic sexual assaults. Harvard professor Karestan Koenen, who will testify in Wednesday's hearing, volunteered in Niger in 1991, ABC reported. She said she was raped in broad daylight and then victimized by a Peace Corps official in Washington after the event.
"I walked into her office and the first thing she says to me is, 'I am so sick of you girls going out with men, drinking and dancing and then when something happens, you call it rape,'" Koenen told ABC.
"I felt like someone had just kicked me in the stomach," Koenen said.
Jessica Smochek, was 23 in 2004 when she became a Peace Corps volunteer in Bangladesh.
She said that initially, she was often groped and harassed but the Peace Corps refused to send pepper spray or move her to a safer village. Finally, she said, a group of men raped her at knifepoint.
The Peace Corps medical officer who later examined her took no evidence, she said. When she finally left, she said, she was warned not tell colleagues what had happened and to blame her departure on a need to have wisdom teeth removed. She was flown back to Washington, where she met with a counselor who, she said, required her to write a list of things she had done wrong, such as going out alone after 5 p.m.
"I felt belittled and blamed," Smochek told the committee.
Also testifying was Dr. Karestan Chase Koenen, a native of Pompton Plains, N.J., who the Peace Corps sent to Niger in 1991. She said she was raped there in December that year, and was treated insensitively by the Peace Corps when she was sent back to Washington, including by a male gynecologist who told her to stop being hysterical.
Koenen is now a public health professor at Columbia University, teaching psychological trauma.