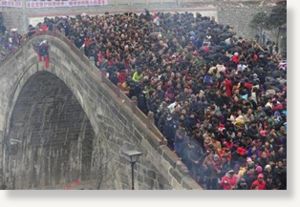 The world's population is projected to pass 7 billion on October 31 as it heads toward 10 billion or more by the end of the century, a new U.N. report said on Tuesday. The report also predicted that the global population would be higher by mid-century than its last edition forecast two years ago, reaching 9.31 billion instead of 9.15 billion.
It attributed this to fewer deaths as well as more births than it had anticipated. The October date for reaching the 7 billion mark is based on calculations from current trends and Hania Zlotnik, head of the U.N. economic department's population division, said it should be taken "with a grain of salt." Nevertheless, the United Nations Population Fund (UNFPA) announced it would start a seven-day countdown on October 24 that would include a series of events. The world reached 6 billion people in 1998 and was 6.89 on July 1.
The report, "2010 Revision of World Population Prospects," projected there would be 10.1 billion people on the planet by 2100, the first time it has looked that far ahead. But it said that if global fertility was just half a child more per woman than it expected, that figure could be almost 16 billion. U.N. officials said their figures were based on the assumption that fertility would taper off during the century.
Zlotnik told a news conference, "Stabilization of the population doesn't seem to us as very probable at this moment." Nations face a delicate balance between high fertility and booming populations, which strain food and other resources, and low fertility, which leads to aging populations and stress on social services, as some European states are already finding.
"All countries are going to age if their populations are not to explode even more than they are exploding now," Zlotnik said. Another U.N. official, Gerhard Heilig, told the news conference that China's population, currently about 1.34 billion, would drop back below 1 billion by 2100. Russia's population would fall from 143 million now to 126 million by 2050 and 111 million in 2100, he said. But UNFPA chief Babatunde Osotimehin said the latest global figures "underscore the urgent need to provide safe and effective family planning to the 215 million women who lack it," a point echoed by pro-birth control advocacy groups.
Suzanne Ehlers, president of Washington-based Population Action International, called the new projections "a wake-up call for governments to fulfill the global demand for contraception."