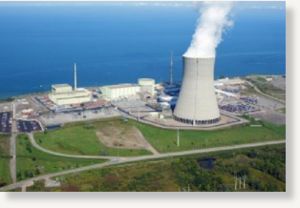 As of press time Tuesday, nuclear plant personnel are continuing to investigate Monday night's automatic shutdown of Constellation Energy Nuclear Group's (CENG) Nine Mile Point Nuclear Station Unit 1.
The shutdown at the Scriba-based facility reportedly occurred at 8:51 p.m.
"(Nuclear power plants) are designed to automatically shut down when there are certain indications that come into the control room, and that is one of the foundational safety measures built into the plant," said Jill Lyon, a spokeswoman for CENG. "So everything worked as it was designed to."
The shutdown occurred while the reactor was operating at 47 percent power, Lyon said. Unit 1 operators lowered reactor power on April 26 based on indications within the feedwater system. In addition, the plant had been operating at reduced levels while equipment repairs were in progress.
Plant personnel are currently working to identify the cause of the shutdown and will determine if any repairs or actions will be required to allow that plant to return to service.
The duration for the outage could not be specified.
"We are not going to return the unit to service until we know that we have done the right repair work to make sure that it is ready to run safely and reliably," Lyon said.
She added that the last automatic shutdown that took place at the unit 1 facility was in November 2010, and was associated with maintenance work at the plant.