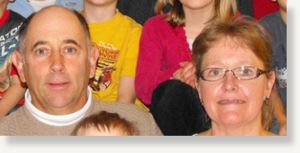 Sheriff's deputies searching for the husband of a Canadian woman who survived for seven weeks on water and trail mix in their stranded van in remote mountains near the Nevada-Idaho line were holding out hope against all odds on Saturday that he too somehow could still be alive.
Rita Chretien, 56, told investigators the last she saw of Albert Chretien, 59, was on March 22 when he set off for help on foot with a GPS unit just a few days after they got stuck in the mud on a national forest road in extreme northern Elko County, Elko County Sheriff Jim Pitts said.
While it seemed unlikely he could have survived all this time, sheriff's Detective James Carpenter said crews weren't ready to turn the rescue mission into a recovery operation.
"I want to wait to see what they come up with," Carpenter told the Associated Press. "It's pretty nasty up there and there's no communication."
Deputies from Nevada and Idaho's Owyhee County continued searching the rugged river canyons and snowy mountain sides about 10 miles northeast of the Humboldt-Toiyabe National Forest's Jarbidge Wilderness Area.
"I don't know how much snow is up there, but it's really wet and heavy," Carpenter said from the northeast Nevada town of Elko, which sits on U.S. Interstate 80, roughly 80 miles south of where hunters spotted the Chretien's van on Friday.
Because of the snow and mud, the only way currently to access the site is from Idaho, Carpenter said. "We can't get in from the Elko side."
Officer Dan Moskaluk, spokesman for the Royal Canadian Mounted Police in British Columbia, said the woman was at an Idaho hospital and reportedly walking around.
"Her family said she lived off water and small amounts of trail mix," losing 20 to 30 pounds during the ordeal, Moskaluk told the AP.
Detectives in Idaho intended to meet again Saturday with Mrs. Chretien and her doctors, Carpenter said.
During brief questioning Friday, she told investigators her husband left the vehicle with a GPS unit on March 22 and told her he was walking to a state highway in an attempt to find help.
The Chretiens disappeared in late March during a trip to Las Vegas and last were seen in Baker City, Ore.
"We're stunned," Raymond Chretien, the couple's son, told
The (Portland) Oregonian
in a telephone interview. "We haven't fully digested it. This is a miracle."
The remote mountainous area where the van was found is popular with elk hunters, campers and hikers. It is surrounded by 7,000 to 10,000-foot peaks and geographic features with names like Rattlesnake Canyon and Rocky Gulch.
"It's very remote and isolated," said Joe Doucette, a conservation educator for the Nevada Department of Wildfire who fishes in that area. "It's rugged country, steep canyon walls. Difficult to get in and out of."
The area is about 20 miles west of the Jarbidge River, which has been the focus of a decade-long legal battle between over the Forest Service's closure of a road to help protect the threatened bull trout.
"They got turned around off the main road that they should have been on," Moskaluk said.
The van was found near the Bruneau River on national forest land. The Forest Service said in a statement on April 5 that a large landslide had closed the Bruneau River Road, but it wasn't clear exactly where.
The couple left their Penticton, British Columbia, home on March 19, and reached Baker City in eastern Oregon that afternoon, where they were captured on a store's surveillance camera.
Raymond Chretien told
The Oregonian
they made it to Nevada later that day, sightseeing on back roads when their van got stuck in mud. Three days later, Albert Chretien set out on foot.
Officials said weather over the past month in that area has included snow, rain and chilly temperatures.
"I don't believe they were prepared for winter weather," Raymond Chretien said. "They don't go camping."
The Chretiens were reported missing when they didn't return home March 30.
The RCMP, Baker City police and other agencies mounted a search in April but failed to turn up any sign.
Moskaluk described it as an extensive search covering 3,000 square miles "from March 31 onward."
He said the family is well regarded in Penticton and operates a heavy equipment excavation business.
Raymond Chretien said his mother doubts whether she would have made it three more days. She had been keeping a journal to let her family know what had happened.
Her son said she immediately apologized for the anguish she caused him, his two brothers and other relatives.
"She felt extremely bad for us all," he said.