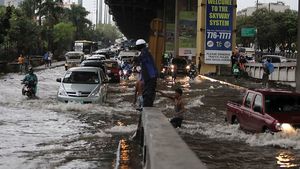 Tropical storm Aere slammed into the eastern Philippine coast on Sunday, bringing heavy rains and landslides that have so far killed nine people and forced thousands to leave their homes.
The Philippines' state weather bureau said Aere made landfall over the island of Catanduanes before noon and moved northwest over the main island of Luzon.
Nine people were killed due to landslides, drowning and fallen power lines, mostly in the eastern Bicol region and Catanduanes, the National Disaster Risk Reduction and Management Council said in a statement.Authorities in Bicol scrambled their rescue and relief missions but were hampered by the rough weather.
"The provincial road going to the (area) is not passable due to flooding,'' said Inspector Ayn Natuel, a spokesman at the Bicol regional police headquarters.
Aere, the first major storm of the year, hit Catanduanes, an island of about 250,000 people, with winds hitting 85 kilometres (53 miles) per hour at its centre.
Storm alert warnings have been hoisted over most of Luzon which is forecast to face heavy rains into Monday, the government weather station said.
The disaster management council said more than 70,000 people were evacuated to safer ground as a pre-emptive measure in the eastern Bicol and in central Visayas regions.
Landslides were also reported near Ormoc city in the central Philippines, while there was widespread flooding in many areas, it said.