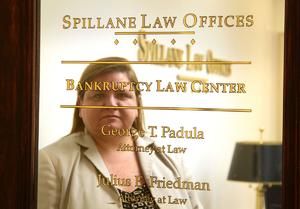 Personal bankruptcy filings have risen to their highest levels since bankruptcy reform legislation was enacted in 2005, spurred by widespread job losses, underemployment and a stagnant real estate market.
The bankruptcy epidemic has affected a wide variety of households, from people in their prime earning years who are struggling after layoffs to retirees who are no longer able to pay their mortgages.
In Massachusetts, the total number of Chapter 7 and Chapter 13 personal bankruptcy filings rose to nearly 23,000 last year, up 16 percent from 2009. Nationally, personal bankruptcy filings rose 9 percent over the same time.
A 33-year-old administrator at a residential treatment facility for at-risk teens had never fell behind on his bills. But the purchase of a condo in Abington during the height of the real estate bubble proved to be disastrous for him.
David, who asked that his last name not be used in this story, bought the condo in 2005 with a friend as an investment and short-term living arrangement, using an interest-only mortgage that became an adjustable rate mortgage after five years.
As the economy lurched into recession, both took pay cuts and David's roommate lost his job. Hoping to force the lender to modify the loan, the pair stopped paying the mortgage for nearly three years. They finally settled on a short sale, a process that left them with a $90,000 debt. "Unfortunately, like a lot of people we ended up with a mortgage that was set up for failure," he said.
The bankruptcy epidemic has cut across all circles, but what's changing is the demographics, local bankruptcy lawyers say.
"For the first time, we're seeing a great deal of elderly people," said Wayne Gilbert, a bankruptcy lawyer from Weymouth. "Before 2007, we didn't."
Gilbert recalled a woman nearing her 90th birthday who begged him to take her case so that she could pass on a clean estate to her family.
Many retirees filing for bankruptcy are people who are too old to return to work, but facing increases in adjustable-rate mortgage payments, Gilbert said.
"They might be receiving $1,100 a month from Social Security, and just a few hundred dollars a month can mean the difference," he said.
While job loss remains the biggest trigger for a bankruptcy filing, Quincy attorney David Nielson said the second-biggest category is people entering retirement.
"Their income is greatly reduced and they can no longer afford credit card payments and in some cases their car payments," he said.
Nielson has seen an increase in higher-income clients seeking bankruptcy because of job loss or reduced income.
In some cases, they have lost income from investment properties where rent is in arrears, Nielson said. Under Chapter 13, they are usually allowed to keep their principle home.
Bankruptcy cases fell sharply in 2005 after enactment of the Bankruptcy Abuse Prevention and Consumer Protection Act. The federal law was intended to curb abuse and fraud of the bankruptcy process by debtors and force more debtors to pay back their creditors.
It did so by making it harder to file for Chapter 7 bankruptcy, a straight liquidation process, as opposed to Chapter 13, in which the debtor is required to pay back at least some of the debt over a three- to five-year period.
Under the new bankruptcy laws, debtors who make more than the local median income are required to file for Chapter 13.
The law also imposed new requirements on debtors and their attorneys. Debtors are required to take a credit counseling and financial management courses before their case can be discharged by the court.
Lawyers, for their part, are now required to verify their clients' financial statements and assets. That has created more paperwork and increased attorneys' fees. A typical Chapter 7 case, which takes approximately three months to make its way through the courts, costs a consumer $1,000 to $2,500, Nielson said. Chapter 13 cases are capped at $3,500 unless the court approves additional expenses.
But what the new law has failed to address, Gilbert said, is the root cause of many bankruptcy filings: loose credit standards that enabled borrowers to obtain bigger mortgages and credit lines than they can afford.
"That is very much a common denominator with all my clients. It's always the credit cards," he said. "That's where Congress really had to go after it, but (lenders) had a bigger lobby group."
Kathleen Kane, a Quincy attorney who specializes in bankruptcy cases, said although bankruptcy filings linger on a person's credit report for 7 to 10 years, they can take steps to rebuild their credit.
One method is a secured credit card, in which a debtor deposits money as collateral to serve as the credit line. That enables them to establish a history of payments.
Rising utilities, groceries and gasoline prices finally led a 38-year-old woman from Quincy to file for bankruptcy late last year.
Jen, who worked in marketing and preferred not to give her last name, said she was worried about the stigma of bankruptcy and the effects on her credit report. But after researching and rejecting debt consolidation services, she decided a Chapter 7 filing was the best way to get her financial house in order.
"Paying for a lawyer seems expensive, but it's worth it," she said. "It hits your credit, but you can rebuild your credit. You need to rebuild your life."