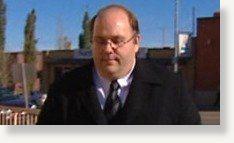 Former high-school counsellor and child protection worker Jason Keough was sentenced Friday to 27 months in prison for exploiting three young couples for sexual purposes.
Keough was convicted in January on two counts of possessing child pornography and one count each of making voyeuristic materials and voyeurism.
The sentence imposed by Justice Donald Manderschied is nine months longer than what the Crown had recommended and includes jail time for the voyeurism conviction. The judge said no court has ever imposed jail time for that offence.
Crown prosecutor Diane Hollinshead later explained to reporters that courts have been imposing conditional sentences or probation as a punishment for voyeurism, which is still a relatively new offence.
She welcomed the judge's decision to sentence Keough to prison on that count.
"We are seeing more and more voyeuristic activity, we are having more charges ... and the conduct that we saw here in the file involving Mr. Keough does require a denunciatory, deterrent sentence and that would involve jail," Hollinshead said.
The trial heard how Keough owned tapes of three young couples having sex, made over a three-year period between January 2005 and the fall of 2008.
The court was told Keough paid one young man to videotape himself and his girlfriend having sex. The girl, 15 at the time, was not aware she was on camera.
Another man testified Keough threatened to have his girlfriend put into foster care unless the couple made sex tapes.