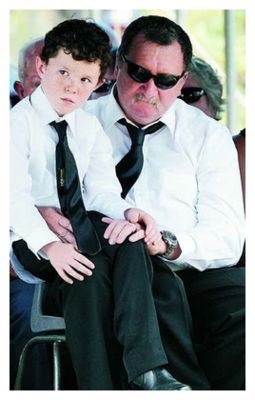 Flood survivor Danny McGuire was yesterday at the heart of a bizarre story involving claims he could be charged with causing the tragic deaths of his family in the floods.
Acting Police Commissioner Ian Stewart and even Premier Anna Bligh were eventually forced to dismiss claims made by Mr McGuire yesterday morning.
Mr McGuire told media he would be charged with driving an emergency vehicle causing death and driving the vehicle while unlicensed.
The firefighter's wife, eldest son and daughter died when a wall of water swept through Grantham on January 10.
Mr McGuire had bundled his family into a fire truck in a bid to escape but the flash flood swept the vehicle away. His wife Llync, 31, eldest son Garry, 12, and daughter Jocelyn, 5, died.
The Grantham father and his son Zach, 7, survived.
The family home was also lost.
His claims yesterday morning sparked angry outbursts from Toowoomba residents disgusted that Mr McGuire was to be charged.
His friend John Tyson, whose wife and son were also killed in the floods, was outraged.
"You leave the rescue of your own family until last, pay the ultimate price and then get charged with this," Mr Tyson told
The Chronicle
.
But a few hours later police were moving to quash the claims.
In a press conference yesterday afternoon Mr Stewart, who is originally from Toowoomba, dismissed the story.
"We are at a loss to understand why he has made this statement," the Acting Commissioner said.
"The Queensland Police Service does not have any information which would cause us to take action against Mr McGuire."
Mr McGuire was yesterday thought to be in New South Wales.
He and Mr Tyson had attended a camp in Sydney hosted by the Salvation Army to help lift their spirits after the tragic flood event.
Last month, Mr McGuire claimed he was gagged from speaking out about the management of the disaster.
He said he told authorities to evacuate Grantham two days before the disaster but his warnings went unheeded.
He claimed the fire service then ordered him to hide in a motel for nearly six weeks after the floods and not to speak about the issue.