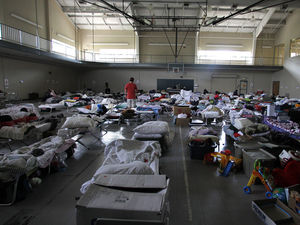 For survivors of last week's deadly tornadoes in Alabama and other parts of the South, shelter is the paramount concern. With thousands left homeless, the challenge is finding temporary housing for displaced residents while the region rebuilds.
The Federal Emergency Management Agency says some 30,000 people have registered for assistance, and more than 3,000 National Guard members are on the ground conducting search and rescue, security and debris removal.
Home these days for Starkey Armistead of Tuscaloosa, Ala., is one of dozens of cots lined up on the gym floor at the Belk Activity Center where he has stayed since a tornado destroyed his apartment.
"It's a little different sharing a bedroom with a hundred people, but you get used to it," he said.
Across the South, more than 800 people are staying in shelters like this one set up by the Red Cross. Others are staying with family and friends, or even in their damaged homes. Residents in Tuscaloosa on Tuesday scrambled to get broken windows boarded up and tarps over roofs before a cold rain set in.
At the shelter, 61-year-old Susan Fearce said she isn't sure what the future holds.
"I don't know," she said, "because our complex where we were living is completely wiped out, so I don't know where we're going to go."
Mayor Walt Maddox says that in Tuscaloosa alone, the homeless figures are daunting.
"The rough math that I've done I believe you're probably talking thousands," he said. "If you've had 5,000 structures obliterated, I don't see how you don't have that number."
Maddox says it could take years to rebuild. In the meantime, the city doesn't have enough existing housing or hotel space to take care of displaced storm victims and the workers who have flocked to the city to help with the cleanup.
We need a place to sleep. We need a room we can lock a door and be safe.
That's where the federal government comes in: A task force of local, state and federal officials met Tuesday to start an emergency housing plan, considering whether to bring in trailers or other temporary housing units. There are no estimates yet of the scope of the need.
FEMA has approved about $9.5 million in grants for temporary housing, home repairs and uninsured losses. Finding enough shelter is the pressing issue, federal Housing Secretary Shaun Donovan said.
"FEMA may be able to get assistance to families quickly, but those families need a place to live," he said.
After Hurricane Katrina in 2005, and the government's widely criticized disaster response, HUD developed a national housing locator system. Donovan says it can search what's available near damaged communities and has already found 1,500 units in Alabama.
At the Red Cross shelter in Tuscaloosa, Mechelle Heard and Shawn Smith were waiting for the doctor. Heard said they'd stayed at several places over the past few days, including hotels, family and a friend.
"Right now, I don't know," she said. "My friend's talking about she wants us to help pay her rent, and we don't have no money."
Heard said staying overnight at the shelter is not an option because she suffers from anxiety.
"I can't be amongst all these people," she said. "It's kind of scary."
They've registered with FEMA and are waiting to find out what help they're eligible for. Smith said it's stressful.
"You know, sometimes I just want to break down and cry, but I can't because I have to be strong for her," he said. "And this is going on almost a week now. I'm just frustrated and tired."
Since the storm, the couple said, people have been eager to help - giving them clothes, food and other basics. But Heard said she doesn't have anywhere to keep the donations.
"We need a place to sleep," she said. "We need a room we can lock a door and be safe."
"Take a bath," Smith says. "Be clean."
Heard continues: "Be able to sit and be still and be peaceful for a minute."
Now, a week after the tornadoes, thousands of residents here are longing for the peace and stability of their own home.