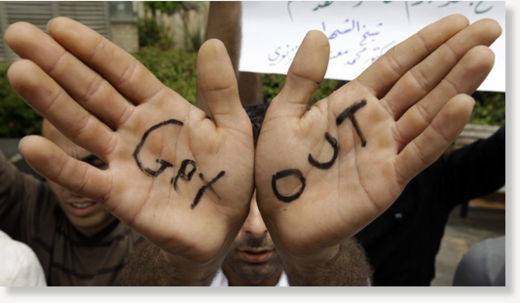 Syrian authorities have arrested more than 1,000 people and many more have been reported missing in the latest sweep aimed at crushing the uprising against President Bashar Assad, a human rights group said Tuesday.
Ammar Qurabi, who heads the National Organization for Human Rights in Syria, said the 1,000 detentions were made since Saturday in house-to-house raids across the country.
"They are picking up people in an arbitrary manner," Qurabi told The Associated Press. In the southern city of Daraa, the epicenter of the protest movement, agents have been arresting men under 40, he said.
Assad is determined to crush the six-week-old revolt, which is the gravest challenge to his family's 40-year-old ruling dynasty.
Assad inherited power from his father in 2000, and has maintained close ties with Iran and Islamic militant groups such as Hezbollah in Lebanon and Hamas in Gaza.
Rights groups say at least 545 Syrians have been killed since the uprising began in March in Daraa, spreading quickly across the nation of some 23 million people.
Syria blames the unrest on a foreign conspiracy and "terrorist groups" that it says have taken advantage of protests to stir up unrest and destabilize Syria.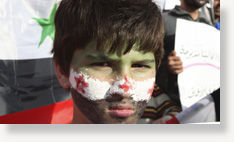 But Assad has also acknowledged the need for reforms. He has lifted the country's despised emergency laws and granted citizenship to Kurds, a long-marginalized minority group, in an effort to placate protesters. He offered an amnesty to Syrians who turn themselves in before May 15 for carrying weapons and allegedly undermining the country's security.
But his overtures of reform have been coupled with a bloody crackdown that has served only to embolden the protest movement.
Over the past week, authorities intensified its campaign to quell the unrest, sending in soldiers and tanks to trouble spots.
Qurabi said Monday's arrests included prominent Syrian engineer and pro-democracy activist Diana Jawabri, who security agents bundled into a white car in the upscale Damascus Mezze district.
The brutal crackdown has triggered international condemnation. The Obama administration hit three top Syrian officials as well as Syria's intelligence agency and Iran's Revolutionary Guard with sanctions. Obama has accused Iran's hardline regime of aiding Syria in the crackdown.
Germany says sanctions coming
European nations summoned Syrian ambassadors last week in a coordinated demand that Assad stop gunning down his people, and Germany said sanctions were possible if the crackdown did not ease.
"The ongoing brutal actions of the Syrian government leave the European Union no other choice than to push forward forcefully now with targeted sanctions against the regime," Germany's deputy foreign minister, Werner Hoyer, said Tuesday.
The situation in Daraa "allows no doubt about the brutality and uncompromising nature of the regime," Hoyer said in a statement.
"Europe must now respond to this with sanctions."
European sanctions could strengthen the effect of U.S. trade and financial sanctions slapped on Syria in 2004 and 2006, mainly on counterterrorism grounds.
Daraa, a drought-plagued city near the border with Jordan, has been under siege for a week since the regime sent in troops backed by tanks and snipers to crush protests.
Electricity, power and fuel have been cut and the military has largely sealed off the area.
The International Committee of the Red Cross on Tuesday called on Syria to allow it "immediate and unimpeded" access to those injured in clashes between protesters and government forces.
A spokesman for the Geneva-based relief group, Hisham Hassan, says the Red Cross and Syrian Red Crescent have only been able to reach those injured who are in hospitals around the capital Damascus.
Source: The Associated Press