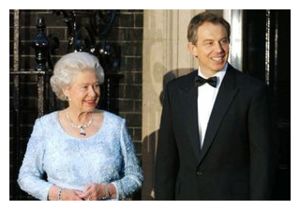 The Queen doesn't like him, so he wasn't invited. But the snub to Tony Blair makes a nonsense of claims that Friday's wedding has modernised a fundamentally Conservative institution
Of course it was a snub. The Royal Family wouldn't be so vulgar as to do it in the open, so there was a cover story, but it was a snub.
The cover story, which had the technical advantage of being true, was that protocol allowed Tony Blair and Gordon Brown to be left off the guest list. But it was a flying buttress of piffle.
If you care to follow me, I can explain the intricacies of precedent that sustain this nonsense. You do not need to immerse yourself in the angels and pinheads, because they are beside the point, but if you stay with it there is a kind of Catch-22 charm to the idiocy of it all.
The wedding was not a state occasion because it didn't involve the monarch herself or the heir to the throne, which makes it different from the one in 1981, which did. For a state occasion, the angels on a pinhead say that former prime ministers may be invited, as they were 30 years ago. For a non-state occasion, they get the gold-edged card only if they are Knights of the Garter or the Thistle, personally appointed by the Queen. And Tony Blair and Gordon Brown aren't, although that only rephrases the snub question in a different form, namely "why not?", as there are currently two vacancies in the Order of the Garter.
Anyway, they're not knights of either order, so it had "simply not crossed Prince William's mind" and - give a gong to the anonymous spin-courtier who thought up this gem - "we have had to draw the line somewhere".
So where, Sir, shall we draw it? Who can doubt that, when the protocol wallah presented the draft list to the Prince and his grandmother, Blair and Brown's names were not on it? The wallah, or one of the spin-courtiers, may then have murmured that some of the newspapers might notice that two former Labour prime ministers weren't invited but that Baroness Thatcher and John Major were. And then what? Did the Prince leap up and say, "Bugger protocol, they were the people's prime ministers, they'll have to come"? We think not. Apparently, he and Kate could "break with tradition" to issue a message in the order of service thanking people for their good wishes, but not to invite Blair and Brown.
Nor, on this occasion, is my judgement clouded by my opinion that Blair was, on balance, quite a good prime minister (we'll come to Brown in a moment). It was the
Daily Mail
that first reported this gap in the guest list, last weekend, and
The Sunday Telegraph
that first took offence, before the
Mail
returned to it, carrying a remarkable leading article on Wednesday, saying, "This paper never held a torch for Tony Blair." Which is true in the sense that it never held a torch for Myra Hindley either. But it described the decision not to invite the former prime ministers as "a shabby, divisive and deeply unwise step for the monarchy".
So it was a snub. But why? The former PM and his wife are "completely mystified", the IoS can reveal. Well, we can guess. For all the nonsense about how this wedding symbolised the "modernisation" of the Royal Family, the establishment is alive, well and fighting back. It regarded Blair, with Brown his appendage, as a mortal threat to Conservative home counties civilisation as it knows it.
With the disclaimers that apply to mere speculation, the specific reasons why the Royal Family might be happy to allow protocol to exclude Blair and Brown include:
1. The Windsors cannot forgive Blair for helping to save them from the nation's dangerously angry mood after the death of Princess Diana. This is stinking ingratitude and deeply unfair, but it is how the vindictive classes work.
2. Blair's memoir. In it, he boasted about saving the monarchy while typically recognising that this might stoke resentment: "The Palace had asked me to read a lesson [at Diana's funeral]. It was a mark of how pivotal my role had been through the week, but I also knew it would lead to a charge of 'muscling in'. Indeed, throughout, we were walking a tightrope, thinner and more frayed by the day, between organising everything to go well and 'cashing in' or exploiting." Worse, he quoted liberally from the Queen. This is against the rules that are designed to avoid letting "light in on the magic" and which she guards jealously. Serious danger of a Victorian sense of humour failure.
3. Blair's book also includes an account of a conversation with Prince William, aged 15, in the days after Diana's death. He was "grieving but angry", and Blair provides a cost-benefit analysis on his behalf: "For all the sense of duty, the prison walls of hereditary tradition must have seemed too high a price to pay."
4. Brown's cancellation of the replacement for Britannia, the royal yacht.
5. Labour's spiteful (as the Royal Family sees it) ban on hunting. (That Blair was personally opposed to a ban presumably cuts little mustard.)
6. Cherie's reluctance to curtsy, or to conceal her republican tendencies.
7. Blair's expulsion of the hereditary peers from the House of Lords.
8. Blair made the Queen sing "Auld Lang Syne" in the Dome at the millennium. And then wrote a funny account of it in his memoir.
Who, then, should take responsibility for the lack of an invitation? William may have taken offence at Blair's conduct in 1997, or at the words in his book, but that the Royal Family corporately, led by the Queen, "held no torch" for him, seems the most likely reason. They are not exactly Labour - a lack of sympathy that may well be shared by the Middleton family. Yet it seems that the animosity was also personal with regard to Blair. It is hard to imagine that the Queen would have been fond of Brown. For example, during a visit to the London School of Economics in November 2008, she said of the financial crash: "Why did nobody notice it?" Even if she had been, he could hardly have been invited and Blair not.
David Cameron should share some of the blame. He surely should have intervened to advise the Royal Family that it was engaged on a foolish and dangerous course. But he and the Royal Family seem to share a blind spot, in that they fail to see that their unthinking Conservatism will be perceived as spite.
Cameron showed his true colours in a radio interview 12 days ago when he, apparently casually, spiked Brown's chances of the job of head of the International Monetary Fund. For all the Conservative leader's attempts to modernise his party, and for all the admiring commentary about William and Kate presenting a modern face of the monarchy, both institutions remain deeply Conservative.
It was noticeable to the normal television viewer, but not presumably to those who saw the lists in advance, that there were many Conservative politicians at the abbey, including George Osborne, William Hague, Theresa May, Kenneth Clarke, Sir John Major and Lord Hurd. But only one Liberal Democrat, Nick Clegg, and two Labour politicians, Ed Miliband and Carwyn Jones, First Minister of Wales.
For Cameron and the Royal Family, so-called modernisation is a tactic, a way of using the enemy's weapons to roll back the advance of New Labour. Their vision of "ordinary" Britain is a trestle-table, Berkshire golf-club version, and Tony Blair symbolises everything that they hate and fear. As David Starkey wrote last week: "A national monarchy has become a home counties one; the symbol, not of the nation, but of comfortable Britain."
Additional research by Charlie Cooper
Guest-list talking points - the celebrity inclusions and controversial omissions
Why were they there?
David Beckham
The LA Galaxy star Beckham and William, as president of the FA, became friends when they were closely involved as ambassadors of England's failed 2018 World Cup bid. David and wife Victoria arrived early at the wedding, but he mistakenly wore his OBE on his right lapel.
Sir Elton John
A good friend of Prince William's mother, Diana, Princess of Wales. The last time he was at Westminster Abbey he performed an emotional rendition of 'Candle in the Wind' at her funeral in 1997. Attending with his partner David Furnish, the emotional Elton had tears in his eyes during the service.
Rowan Atkinson
The actor and comedian is a close friend of Prince Charles. The Blackadder and Mr Bean star also appeared at the comedy gala We Are Most Amused in 2008 a special show to celebrate the Prince's 60th birthday. Atkinson took a pew alongside Tara Palmer-Tomkinson and Ben Fogle.
Guy Ritchie
The film director who made the cult 1990s film Lock, Stock and Two Smoking Barrels, but is still best known as Madonna's former husband, was listed in the invitations as "a friend of Prince William and Kate Middleton". The Prince's spokesman declined to offer an explanation on how the three knew each other.
Joss Stone
The soul singer, from Devon, was reported to have become close to William when she performed at a memorial concert in 2007, which marked the 10th anniversary of Diana's death. The friendship is reported to have blossomed after the concert, although this was dismissed as rumour at the time.
Why weren't they there?
Gordon Brown
The wedding was not a state occasion and did not involve the Queen herself, so former prime ministers were invited only if they were Knights of the Garter or the Thistle. Mr Brown and Mr Blair are not, although there are currently two vacancies in the Order of the Garter.
Tony Blair
St James's Palace said there was "no protocol reason" to invite Mr Blair or Mr Brown, and disputed the comparison with the Prince of Wales's wedding to Diana, when former prime ministers were invited. A spokesman said that because it was a private wedding, the couple were entitled to invite whoever they wanted.
Sarah Ferguson, the Duchess of York
The Duchess has endured a disastrous 12 months, in which she tried to sell access to Prince Andrew for £27,000 in a newspaper sting, while reportedly struggling debts of £5m. Fergie said she "never expected" to be invited, adding that should would have missed the ceremony in any case because of "private plans overseas".
Paul Burrell
Diana's former butler sold his story in his book
The Way We Were: Remembering Diana
and in so doing became an occasional entertainment celebrity. He was formerly the Queen's footman and describes himself as a "noted authority on all things regal".
Lily Allen
The former singer turned fashionista tweeted her outrage at not being invited despite performing at the Concert for Diana in 2007. "Why does bloody Joss Stone get an invite and not moi? I sang at the Diana concert too!" she wrote.