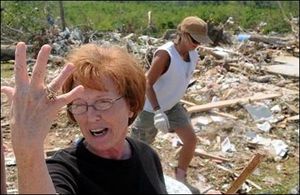 Travis Roberts invited his neighbors into the storm cellar he built for $600, but they figured they would ride out the twister bearing down on them.
Five were killed and two critically injured when it struck, splintering their homes, but Travis and his wife Brenda survived below ground in their storm-rocked concrete shelter.
"We did not respect the warning enough," said Roberts of the tiny Alabama town of 1,100 people, which was largely flattened in the deadly tornado outbreak that killed at least 350 people across seven states.
He credits his wife Brenda's fear of twisters for saving their lives.
When they bought their property in the town 35 years ago, he accommodated her worries by building a storm cellar.
"It is patterned after a Cold War fallout shelter. I spent $600 on it. I got my money's worth," Roberts told Reuters.
The families behind and in front of his home did not elect to join him, and five of them did not survive the storm.
"Two of my neighbors chose to ride it out. They rode all right -- literally -- about 200 yards. I rescued them," he said. The other two remain in critical condition in hospital.
During the storm, the concrete shelter shook with the violent winds. He knew his house was gone before he clambered out of the shelter.
"It wasn't wind, it was an explosion," he said.
Eleven volunteers appeared at his shattered home on Saturday, bringing tents for shade, tools, a tractor, food and water. One found his wife's wedding rings.
"I didn't know there were so many honest people in the world," he said with emotion cracking in his voice. "I cashed in my savings bonds to buy those rings."