Witnesses claim soldiers who disobeyed orders in Banias were shot by security services as crackdown on protests intensifies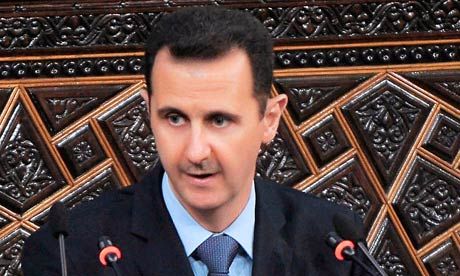 Syrian soldiers have been shot by security forces after refusing to fire on protesters, witnesses said, as a crackdown on anti-government demonstrations intensified.
Witnesses told al-Jazeera and the BBC that some soldiers had refused to shoot after the army moved into Banias in the wake of intense protests on Friday.
Human rights monitors named Mourad Hejjo, a conscript from Madaya village, as one of those shot by security snipers. "His family and town are saying he refused to shoot at his people," said Wassim Tarif, a local human rights monitor.
Footage on YouTube shows an injured soldier
saying he was shot in the back by security forces,
while another video shows the funeral of Muhammad Awad Qunbar
, who sources said was killed for refusing to fire on protesters. Signs of defections will be worrying to Syria's regime. State media reported a different version of events, claiming nine soldiers had been killed in an ambush by an armed group in Banias.
Activists said not all soldiers reported dead or injured were shot after refusing to fire. "We are investigating reports that some people have personal weapons and used them in self-defence," said Tarif.
The reports came as a leading Syrian opposition figure said pro-government gunmen had attacked two villages close to Banias, 25 miles south of Latakia, which has become the latest focus of violence since protests on Friday. Haitham al-Maleh told AP attackers were using automatic rifles in Bayda and Beit Jnad.
Human rights organisations said at least five protesters in Banias had been killed since Sunday including one on Tuesday. In Bayda witnesses reported that security thugs had beaten up men in the central square, and rights groups said hundreds of people had been arrested, including students who took part in an unprecedented rally at Damascus University on Monday.
Violence in the port cities of Banias and Latakia has become increasingly messy as locals report the involvement of pro-government thugs and private militias. One witness, who spoke on condition of anonymity, said "shabiha" (pro-government thugs) had attacked in cars decorated with photos of the president, Bashar al-Assad, on Sunday. Residents of Banias said there was a shortage of bread, and electricity and communications were intermittent.
Syria's leading pro-democracy group, the Damascus Declaration, urged the Arab League to impose sanctions on the regime and said the death toll from more than three weeks of unrest had topped 200.
Tens of thousands of people have taken to the streets to protest against Assad's authoritarian rule. Assad blames the violence on armed gangs and has vowed to crush unrest. He has made a series of overtures to appease anger, including sacking officials and granting Syrian nationality to thousands of Kurds, a long-ostracised minority. But the gestures have failed to satisfy protesters, who demand political freedoms and an end to the decades-old emergency laws that allow the regime to arrest people without charge.
On Tuesday Human Rights Watch condemned security forces for barring access to medical care. UK citizens were warned against "all but essential" travel to Syria and all travel to Banias, where residents are now holding a three-day strike.
Katherine Marsh is a pseudonym for a journalist living in Damascus