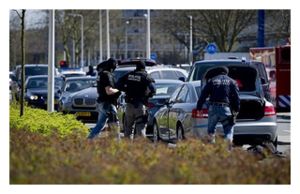 A lone gunman in the Netherlands killed six people after he stormed a shopping centre and opened fire with a machine gun.
Witnesses told how the man, in his mid 20s, began shooting people in the car park before walking calmly through the shopping centre, shooting his victims "in cold blood".
His victims included a woman in a motorised wheelchair, who was shot in the head. A number of children had been shot, but it was unclear whether they were among the dead.
"I saw a woman I know walking at the other side. She wanted to enter a shop when a tall young man approached and shot her in cold blood. He walked calmly and shot through the windows of the shop where I was hiding," said Marjolein Nieuwland.
"I also saw a woman in her motorised wheelchair shot in the head, and at the Albert Heijn (grocery store) there was a young man. Also dead. Later I heard that was the shooter."
The gunman, who was known to local police, later turned a gun on himself. Ten others were wounded in the attack on the Ridderhof mall in the town of Alphen aan den Rijn, 13 miles southwest of Amsterdam.
Dutch broadcaster NOS cited witnesses as saying the man later shot himself in the head with a second weapon, a pistol.
Bas Eenhoorn, acting mayor of the town, described the incident as a "disaster of unparalleled proportions" for Alphen - a suburb of 72,000 people.
"Under these circumstances, with many people shopping at the Ridderhof today, including parents with children, it's an incomprehensible situation," he said, his voice choking with emotion.
"It is hard to believe that our town could experience such slaughter, and on such a beautiful day," he said.
Prime Minister Mark Rutte said in a statement he was "horrified" at the incident.
"My thoughts are with victims, survivors, and all who have been involved in this tragedy," he said.
Queen Beatrix sent a message of condolence at a "terrible situation."
One resident who went to the scene said there was "glass everywhere."
"He was just shooting everywhere, as if it were the Wild West."
Local television broadcast photographs taken of the scene, including one of a man killed in his car, his body hanging from the open door among shards of glass.
Most witnesses said the shooting lasted between 10 and 20 minutes.
"Initially, we thought it was fireworks," said Hajam Leouesset.
"But then we saw people running in all directions and we heard them scream. Then I saw a man firing shots with a type of machine gun and there was blood everywhere," she said.
Although rare, shootings and violence are not unknown in the Netherlands. Among other incidents, in 1999, four students and a teacher were hurt in a school shooting and in 2004, a teacher was shot dead by a student.
The country has also seen two assassinations in the past decade - the 2002 killing of right wing politician Pim Fortuyn by an animal rights activist and the 2004 murder of filmmaker Theo van Gogh by an Islamic extremist.
In 2009, a loner drove his car into a group of bystanders during a royal parade, killing eight and wounding 10.
Gun permits are difficult to obtain, but illegal automatic weapons and ammunition are frequently seized during drug raids.
"You hear about this sort of thing happening at American schools and you think that's a long way away," said Rob Kuipers, 50, a project manager. "Now it's happened here in the Netherlands."